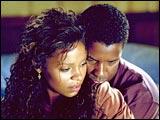 There is plenty of talent in Out Of Time but the film does not rise above a routine thriller with a bit of erotica and comedy thrown in. It may stick around for a few weeks, but only because of the high profile status Denzel Washington has attained in recent years. One of the main drawbacks of the film is that the plot has too many twists and turns. And yet, viewers may find it fun to watch, even while shaking their heads at the overwrought script.

Reuniting with Carl Franklin, the director of Devil In A Blue Dress, Washington plays a smart and at times, well-meaning, police officer whose missteps lead him from one complication to another. Racing against time and sinister forces, he must solve a double murder case. Much of the evidence is pointing at him and his adulterous affair comes to haunt him in more than one way.


| | |
| --- | --- |
| | More on rediff.com! |
| | |
The idea of a man investigating a murder in which he himself becomes a prime suspect while his former wife is also involved in the investigation should have turned into a sharp, well-paced thriller. The film is technically competent and has a decent performance by Washington and sizzling sex scenes. But it is far from a
Training Day
or
Devil In A Blue Dress
.
Forced into a separation from his wife and co-worker Alex Diaz Whitlock (Eva Mendes [
Images
]), Matt (Washington) is having an affair with sex bomb Ann (Sanaa Lathan) who is married to a seedy man, Chris (Dean Cain). Matt loathes Chris and is convinced he is the biggest sleazeball in Florida [
Images
].
When Matt learns Ann has cancer, and has little chance of survival, he lifts some of the drug-bust money for an emergency treatment. He believes Ann's promise that she will replace it soon.
But things take a turn when Ann and Chris's house is burned down and two charred bodies are found. Matt is vulnerable on many fronts: he has to replace the money fast and look around for the real perpetrator while the noose around him becomes tighter.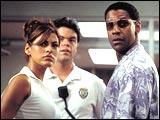 Soon his ex-wife, homicide detective Alex, turns in the phone records, insurance policy, eyewitnesses and other evidence against him.
Matt's personal investigation makes him do too many things like fiddling with computer records and playing too many games. We hardly get to sympathise with him. We are too busy shaking our head, wondering how he is able to do so much! Even an actor of Washington's calibre could not make the role convincing.
His only friend is his drinking buddy who is also the medical investigator Chai (John Billingsley). In a star turn, Billingsley provides the film with many funny and heartfelt touches. Next to Washington, it is his presence that gives the film substance.
CREDITS

Cast:
Denzel Washington, Eva Mendes, Sanaa Lathan, Dean Cain, John Billingsley
Director:
Carl Franklin
Story:
Dave Collard
Running time:
105 minutes
Rating:
PG 13 for sexual content, violence and language.
Released by:
MGM