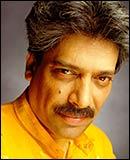 Cesaria Evora, Cheb Khaled and Trilok Gurtu are among the nominees for the BBC Radio 3 World Music Awards 2004.
Evora, the soulful 62-year-old 'barefoot diva' from Cape Verde, a former Portuguese colony, is one of four artists nominated from Africa. Khaled, the rai titan from Algeria famous for his 1992 hit Didi, is nominated in a separate category for North Africa and the Middle East. Gurtu, the globetrotting Indian percussionist who lives in Germany, has been nominated in the Asia/Pacific category.
Gurtu and singer Alka Yagnik, who were separately nominated last year in this category, lost out to Mahwash and Ensemble Kaboul from Afghanistan. Also nominated in 2002, Gurtu then lost to Yat-Kha, a group from the little-known Central Asian republic of Tuva that combines traditional string ensembles with electric guitars.
Another nominee of note in the Asia/Pacific category is Sevara Nazarkhan, the petite Uzbek singer who is a rage in Tashkent, her country's capital. Her debut album Yel Bolsin (Real World, 2003) mixes traditional songs and instrumentation with contemporary Western production, according the BBC Radio 3 web site.
| | |
| --- | --- |
| | More on rediff.com! |
| | |
What makes Nazarkhan a hot favourite is her nomination in the Best Newcomer category. The 2002 award in this category went to
Susheela Raman
, the London-born, Sydney-raised singer who lent a special touch to rendering Carnatic
ragas
in her debut album
Salt Rain
(Narada, 2001), which also won the prestigious Mercury Prize. Raman since released her second album
Love Trap
(Narada, 2003).
Also in the fray is Bob Brozman, the slide guitarist who performed with his Indian counterpart Debashish Bhattacharya on Mahima (Putumayo, 2003). A collaborator of repute, the New York-born Brozman, 49, has been nominated in the Boundary Crossing category in a tough field that includes one of the most successful world music artists, the Paris-born Latin American singer Manu Chao.
The Club Global category stands out for one nomination: the bhangra rapper known as Panjabi MC. Born Rajinder Rai in Coventry, his Mundian se bach ke (Beware of the boys), which was ignored by mainstream radio in the UK, surged to popularity after a New York hip-hop label reissued it early this year.
He also collaborated on the huge hit Beware with rap superstar Jay-Z.
World music awards bring little-known artists into the international spotlight every year. Some seek mainstream success and are lucky to find it. Others vanish as mercurially as they appeared, their 15 minutes of fame quickly forgotten. Then there are others who regard their musical careers as an ambassadorial mission.
The voice of Cesaria Evora brought fame to her impoverished community of former slaves living in a little-known group of islands. She never left Cape Verde until she was in her forties but her exquisite rendition of the morna, the Cape Verde ballads, made her a world music superstar. At her age, stardom and the glitter of the Western world mean little to the diva.
'I'm not impressed by all these big Western cities,' the BBC web site quotes her as saying. 'You have more resources than Cape Verde, that's all. If I could change one thing in my life it would be that my success came earlier.'
Click here for More Soundcheck