Producer Vashu Bhagnani marked his arrival on the Hindi film scene with director David Dhawan's Coolie No 1, and followed it up with one commercial success after another.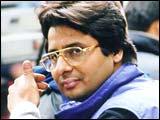 Be it Hero No 1, Bade Miyan Chotte Miyan or Biwi No 1, his knack of having his fingers on the pulse of the audience's tastes gave him the position of Producer No 1.

However, with one flop following another in the last couple of years, his touch seems to have been lost. But tell him that, and the producer who released his Biwi No 1 in the midst of Cricket World Cup 1999 to huge success, blames the audiences' preference to watch television instead.

Today, Bhagnani says the failures were a passing phase. He is all set to bounce back with another comedy, Out Of Control, releasing November 21, says Anjum N.

So you are ready with one more offering. How has the film come out?

Beyond expectations. It's come out very good. I'm totally confident about the product, and that's why I am distributing it myself in about 90 per cent territories across India.

People do not know what the film is about. They think it's just a comedy film. It has Brande Roderick and good music.

The truth is, it has comedy, drama, emotions, family values. It's a complete commercial, family entertainer, a proper Hindi film for the Hindi-speaking audiences. People will love what they see.

Some of your previous films -- Tera Jadoo Chal Gayaa, Deewanapan, Rehnaa Hai Terre Dil Mein, Om Jai Jagadish and Jeena Sirf Merre Liye -- failed at the box-office. Have you lost your Midas touch?

I don't think so. The industry was going through a bad phase in the last three or four years. Most films were not doing well. The audiences' choices had changed. They were stuck to television. Not many films succeeded commercially.

Now, people have started coming out of their homes again. The industry is picking up, and I'm sure Out Of Control will do well.

Whether hits or flops, I always try to understand, analyse and search for reasons why my films did or did not work. That is the only way to continue making films.

The films did not fail because they were badly made or because there was something wrong with our planning.
Of course, there were things that could have been better, like people said the second half of Deewanapan was not good. Or the second heroine's [Mallika Sherawat] eagerness to become a solo heroine and our faith in Kareena Kapoor's ability to carry the film on her popularity failed in Jeena Sirf Merre Liye.
But those weren't the only reasons. Market conditions have to be blamed too.

Everyone who saw Om Jai Jagdish loved the movie. But people were seeing such things in television serials too. So they didn't find any reason to pay to see the same stuff in cinema theatres. They preferred watching the same at home.

Maybe the release timing was bad.

Isn't Out Of Control similar to Saajan Chale Sasural, Gharwali Baharwali or Biwi No 1? Why remake the same story over and over again?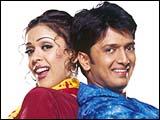 No, it's not very similar to Biwi No 1; but Saajan Chale Sasural, yes, it is.
The difference being, here we have an American and an Indian wife. People will enjoy seeing whether he loves his Indian wife more than his American wife, whether he lies more to the American or Indian wife, and which of the two wives get him in the end.
There are many things like that which I think will appeal to people.

| | |
| --- | --- |
| | More on Rediff: |
| | |
Why was director Apurva Asrani brought in to replace Ramanjit Juneja?
Juneja had come up with the concept and we liked it. But we wanted a young director who would understand the sensibilities of the new generation.
The film deals with a young Indian working in America. It's a story of 'East meets West.' We also needed to show the sensibilities of the Indians there and their modernity at the same time. We had to show the new generation's thoughts too. We needed someone of that age group to handle it and we opted for a new director.
I am 42 years old. I can't understand or think like a 20-year-old. My son is 19. He cannot think like me. We cannot exchange places. Yet, both are right in our places.
If I have to make a film dealing with a teenager, he would know their thinking process better.

How is Ritesh Deshmukh in the film?

He suits the character very well. He is not a proper Hindi film hero, the tall, handsome hunk. But then, films run on characters, not on the strength of the hero. And he has done a good job.

Being former Maharashtra chief minister Vilasrao Deshmukh's son, did Ritesh come on with any attitude?

No. I didn't sign him on because of his father. For me, he was just a hardworking actor. That's the way he behaved on the sets too.

How was it working with Brande Roderick?

When Brande was signed on, she came in with a holiday mood. Soon she completely took us over. It was very nice working with a serious and talented actress like her.

We had to change our style to suit her sense of seriousness at work. They are more organised and punctual, and value discipline, whereas we are a bit lenient with latecomings and so on.

We were afraid of talking to her on the sets earlier. But soon she settled down and made us comfortable too.

We've had foreign actresses working in Hindi films earlier too. Like in Mera Naam Joker or Lagaan. How's Brande any different?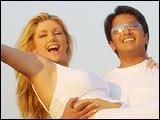 Those were all supporting roles. The main heroine was always Indian, and the foreigner only had a small part. Out Of Control will be the first Hindi film with an English actress in the lead role. People will love her and accept her.

I'm sure she will get many more roles here. Projects will be planned with her and people will soon write stories with her in mind. Her talent and discipline were so impressive, I am sure that will happen.
 
What other projects do you have in hand?

Only Bisaat with Satish Kaushik. But for the moment, we're focused on Out Of Control.


Click here for More Interviews