Free speech in the Land Of The Free comes with a big price tag, and it is Jethro Tull's Ian Anderson turn to pay.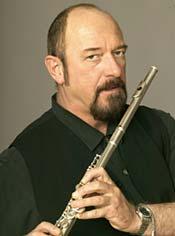 WCHR-FM, a New Jersey radio station, announced it would sing along to an overwhelming audience reaction to boycott the British band's music after its outspoken lead singer and flautist made disparaging comments about the American national flag in an interview published last week in the Asbury Park Press. The band, whose hits such as Aqualung and Locomotive breath are popular requests on classic rock stations on both sides of the Atlantic, is currently touring the US.
'I hate to see the American flag hanging out of every bloody station wagon, out of every SUV, every little Midwestern house in some residential area,' Anderson, 56, was quoted as saying. 'It's easy to confuse patriotism with nationalism. Flag waving ain't gonna do it.'
It was only a small spark but enough to fan a blaze in an American tinderbox drenched with jingoism for the war in Iraq. But the glib and politically vocal Anderson, a well-known radio personality back home, did not hold back.
'Americans are in a dreadful pickle at the moment, being they're the villains of the planet as far as roughly half the population of the world is concerned,' he was quoted as saying. 'Half the world pretty much hates Americans.'
Listeners of WCHR-FM's 'Free Beer and Hot Wings' morning show were swift to pronounce their verdict.
'The reaction of our audience has been 99 percent in favor of the ban and 99 percent incredulous that he would say such stupid things,' said Phil LoCascio, WCHR program director and on-air personality. 'He is a smart guy. As far as we're concerned, this ban is forever.'
He said the ban is not censorship because 'our listeners' right to ask us not to play the music is equal to his right to say what he wants.'
The reactions bear the familiar stamp of American conservatism, and could indicate that listeners are perhaps biting back at Anderson's 'offensive' comments without putting them in perspective. Anderson also told the newspaper in the same interview that the European perspective to war was different from that of America, which had not experienced the horrors of war within its borders.
| | |
| --- | --- |
| | More on Rediff: |
| | |
'We keep the flag-waving out of normal society these days, because we know that it just engenders old animosities -- we old Europeans who are a little sadder and wiser as a result of having the s**t beaten out of us a number of times, and our cities and national monuments destroyed. We're probably a little more sanguine about this than the very sensitive American psyche, which has not experienced or had to endure these offenses on its home turf,' Anderson was quoted as saying.

The band's American tour, slugged 'Rubbing Elbows With Ian Anderson', has an innovative format. In each city, Anderson invites local radio or television personalities and several audience members to join him onstage for an evening of conversation and music, including Q&As, acoustic performances of Tull songs and a local musician performing an original song backed by Anderson's band.

A polymath best known for wedding the flute to rock music, growing various varieties of chilly peppers as a pastime and his experiments with Indian food, Anderson is smitten with cats. He recently raised $15,000 at a concert in San Francisco for Wild About Cats, a conservation project to protect the endangered Andean wild cat.

Jethro Tull owes its unusual name to an actual person, an 18th-century English agricultural pioneer who invented the seed drill. In 1968, the band's agent suggested it as a name, and it stuck.

Photo: Getty Images

Click here for More Soundcheck