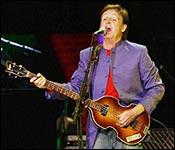 Cracatilla may not spark a lightbulb in your head, but it brings out the angel in Sir Paul McCartney.
And no, it is not the name of his two-week-old daughter with wife Heather Mills. She is called Beatrice.
The Beatle is secretly nurturing the unknown band from his native Liverpool, which he has signed with a newly formed record label called Industry Of Cool. Macca, 61, is also reported to have loaned them a six-figure sum to buy new gear and to sharpen their talents.
But McCartney's lips are zipped.
'Macca's involvement with Cracatilla has been hush, hush,' Industry Of Cool's managing director Gary Wilkinson told The Sun. 'He first saw them play at the end of last year and Sir Paul says they played some of the best music he has heard in 20 years. He has been very supportive of them and seen them play at lots of small gigs.'
| | |
| --- | --- |
| | More on rediff.com! |
| | |
Wilkinson said the band, made up of song writing guitarist
Jay Lewis
, 21, drummer
Lewis Fitzgerald
, 24, and bassist
David Penswick
, 24, was 'a bit like Crosby, Stills & Nash meets Santana.'
Sir Paul first heard about the band from the directors of his fame school, The Liverpool Institute of Performing Arts, which helps develop new talent.
Meanwhile, McCartney will not be swept behind the times. He is re-releasing his 23-year-old experimental track Temporary Secretary. The song, which first appeared on his 1980 LP McCartney II, will feature on Secret History, an album of pioneering 1980s electronic dance tracks, reports NME.com
From father to godfather -- now, is that such a difficult transition?
Jazz loses a bop in Buddy Arnold
Saxophonist Buddy Arnold, whose phoenix-like conquest of drug addiction is a story of intense grit and courage, died on November 9 of complications from open-heart surgery in Los Angeles. He was 77.
Born Arnold Buddy Grishaver in the Bronx, he began playing the saxophone at age nine and by 16, he was performing at the Apollo Theater in Harlem with bandleader George Auld. He then joined super-drummer Buddy Rich and his band on a West Coast tour.
But even as his career promised to soar, Arnold descended into a labyrinth of hard drug addiction. He served time in prison in 1958 on an attempted burglary conviction. In 1981 he was sentenced to seven years in state prison for forging prescriptions and impersonating a doctor. Despite interruptions, the saxophonist continued to play with greats such as the king of swing Tommy Dorsey and Stan Kenton.
After repeated battles with drugs, Arnold finally won the war. He successfully kicked his drug habit and established the Musician's Assistance Program with wife Carole Fields in 1992. The organization has so far helped more than 1,500 needy musicians obtain treatment for drug and alcohol addiction.
New Releases
November 11: Black Sabbath drummer Bill Ward will release a limited edition CD-single through www.billward.com
November 17: Linkin Park will preview its new DVD Live in Texas at Regal Entertainment Theatres in 40 US cities
November 18: The Save The Children benefit compilation It's Still Okay to Dream features contributions from Sting, Eric Clapton, Sarah McLachlan and Carole King
November 25: Michael Jackson's One More Chance, written by R Kelly, will be released on a five-song CD single
U2, Sinead O'Connor, Van Morrison and The Cranberries are featured in Out of Ireland: From a Whisper to a Scream, a documentary due on DVD this week.
Click here for More Soundcheck