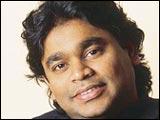 If Sanjay Leela Bhansali and Subhash Ghai had not postponed their projects, A R Rahman would not have been able to work with the British company that plans to do The Lord Of The Rings as a stage musical.
"They [the London company] had been asking me to compose music for this show for more than a year," Rahman told rediff.com "But I was preoccupied with a number of things."
But when Bhansali and Ghai postponed their Bajirao Mastani and Homeland, respectively, by several months, Rahman told director Matthew Warchus he was ready for The Lord Of The Rings. Warchus had met Rahman in London and Chennai over the past year to try and persuade him to compose the music for what till now is the most expensive British stage production.
| | |
| --- | --- |
| | More on rediff.com! |
| | |
Based on the internationally acclaimed, sci-fi bestseller by J R R Tolkien, the $13.6 million London show will open in 2005.

Bombay Dreams, which shot Rahman into the international limelight, cost about $7 million. The revamped version of the musical opens in New York in April. This Andrew Lloyd Webber production, in conjunction with Miramax, will cost $10-12 million and be one of the more expensive Broadway productions.

"It is very strange all this is happening, and it is happening in a way I never expected," Rahman said.

Rahman also found director Warchus's vision for the London production "refreshing".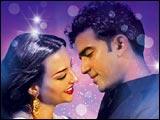 "He is full of creative ideas," said Rahman, who will be collaborating with a Finnish folk band on the show, of Warchus. "It will be lighter than the film versions [directed by Peter Jackson]. Yet, I am sure it will remain faithful to the Tolkien epic."
The Lord Of The Rings will have at least 15 musical numbers, and some of the music will be composed by Finland's Värttinä. "That will be an exciting process, and I am looking forward to this challenge of doing a collaborative work," Rahman said. "We haven't yet had a discussion how this music is going to evolve."
Echoing the thoughts of the show's producer, Kevin Wallace, Rahman pointed out that the original inspiration for Tolkien's stories and languages (such as Elvish) and for much of Värttinä's music and lyrics is the Kalevala, Finland's national epic of mythological songs, poems and stories.
Wallace told British publications he was astounded by Rahman's exotic sounds and brilliant melodies, adding in a press statement: 'A fusion of A R Rahman and Värttinä's exceptional talent and contemporary sound, rooted in the antiquity of their respective traditions, will provide Tolkien's mythological world of Middle Earth with a pure, unique and dynamic score.'
Rahman is also writing three new songs for the Broadway-bound Bombay Dreams. "But nothing is finalised yet," he said. Most of his score for the London production, including the Shakalaka Baby number, will cross the Atlantic.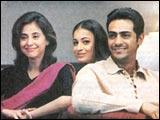 If The Rings proves a hit, a Broadway production is assured. "That will be very good," Rahman said with a chuckle. "But I don't think of those things and things like awards. If you think about them much, you can get badly disappointed."
Among his forthcoming films, he mentioned Tehzeeb because of its old-world charm. "When [director] Khalid Mohamed met me, he said he wanted to include ghazals and literary lyrics," Rahman explained. "We made the ghazals a bit faster though. I hope the music catches on. Not because it is my music, but because the words are so beautiful. We have been seeing the use of language deteriorating. It is important for a film like Tehzeeb to be widely seen and appreciated."
Rahman is introducing London-based singer Sujatha Bhattacharya in Tehzeeb. She has three songs. "I have always enjoyed using new singers," he said. "In some ways, I think the composer and new singers help each other. We give them a break, and they give us a break by giving us more time to rehearse a song. Our compositions end up sounding better."
Rahman also likes to use the voices of legends like Lata Mangeshkar and Asha Bhosle, "but then I must also have phenomenally good tunes when I think of using their voices".
Rahman recently worked on the theme song for the Indian version of the Chinese/English costume drama Warriors of Heaven and Earth with the background of the ancient Silk Route. He used Chinese, Turkish and Indian musical instruments. "We got the music recorded in Prague, a wonderful city with excellent recording facilities," he said. "But I still wish there was no SARS problem and I could have gone to Beijing instead."
He composed the soundtrack in just about three days. Laughing heartily, he said, "Normally, it would take me a month to compose something like this score."
Click here for More Features