He worries about facing the camera with his father in Raj Kumar Santoshi's next film.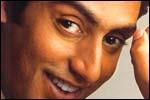 But Abhishek Bachchan thinks he has changed. "When I started working, I was very raw. I didn't know anything about myself as an actor, didn't know my body, didn't know the technicalities of filmmaking. I just plunged into it because I was so excited to be an actor. After my first film, I realised it is a lot tougher and there is so much to learn every day."
Adds the actor, "I appreciate the job my parents [Amitabh Bachchan and Jaya Bachchan] did even more now and my respect for them just grows."
Says the actor about working in Sooraj Barjatya's Main Prem Ki Diwani Hoon, "All the three of us [Hrithik Roshan, Kareena Kapoor and Bachchan] would sit down and fight with him [Barjatya], 'Hurry up and finish the film.' Every time we finished a schedule, we would get excited. But Sooraj spent every waking moment with us. He would be on the phone with us or rehearse his scenes before every schedule. In fact, he would lock us up and rehearse every scene so that we had different options. Once we were on the sets, we knew what he wanted us to do. It was wonderful to have a director who was willing to work so hard on the film." 
Anurag plays God
One would think Anurag Kashyap had his plate full after scripting movies like Satya, Kaun and Shool, and directing Paanch (which ran into trouble with the censor board).
The director recently reworked Geoffrey Scott's play, Man And God Talking Things Over A Pint of Beer into When God Said Cheers.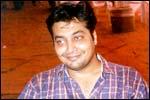 In the play, Kashyap plays God, who meets Cyrus, a man in a beer bar. The 45-minute play revolves around their conversation. "It only took a day and I am still trying to work the 45-minute play into a longer commercial version. What I like about it is that it is profound yet farcical."
Now showcasing the two-man act at different cafes and restaurants across Mumbai, the young director hopes to find time to take the play across the country.
Kashyap is also working on the Anil Kapoor starrer Allwyn Kalicharan, which releases at the end of this year.

Jackie Chan's love affair with India
Hollywood action star Jackie Chan will now visit India to begin work on his latest venture, a $60 million untitled action movie.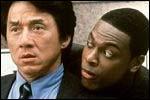 Chan will use the services of producer Mukesh Bhatt, who will provide a team of technicians, infrastructure and equipment to the actor. Bhatt said Chan is keen to shoot in India as the film has a Buddhist backdrop. The martial arts film will be shot in India, China and Hong Kong.
Bhatt said the film would also star Indian actors, although the cast has yet to be finalised. "A team from Jackie Chan Productions is expected in India shortly to scout for locations and shortlist actors," he said.
Chan is now busy with remaking Jules Verne's classic, Around The World In 80 Days. His movies have done brisk business in India, especially in the south. Films like Rush Hour and Shanghai Noon were dubbed into Hindi, Tamil and other regional languages.

Success breeds success
Shahid Kapoor and director Ken Ghosh, actor and director of Ishq Vishk, are busy.
Ghosh is now scripting his second film. "It will take another year before I cast and am ready with the script." He has offers for his film already and is has to decide between Tips (who produced Ishq Vishk) and another concern to produce his second film.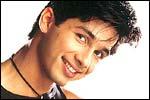 He says, "Shahid is definitely in my second film. That boy is reading almost 45 scripts a week."

Kapoor has already signed two films, but says he is waiting for the setup, other cast and crew to be finalised before divulging any details.
Already the industry is abuzz -- Kapoor reportedly sent away half a dozen producers because he asked for Rs 1 crore as remuneration.

Wrong Number!
Another suspense thriller is due to hit the screens. Called Wrong Number, this film stars Rakesh Bapat, Richa Pallod, Parvin Dabas and Rinku Ghosh. Says debutant director Jignesh M Vaishnav, who earlier directed advertisements and television serials, "Audiences will not be able to guess the next scene."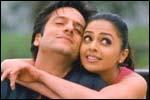 The films revolves aroud a few murders, one wrong situation and a wrong number.
Pallod, whose debut film Kuch Tum Kahon Kuch Hum Kahien tanked, says, "I am very confident about my character in the film. Even though I hate horror films, I think this one will keep the audience on the edge of their seats."

The film is due for release in two months.