Veteran actor Dev Anand will receive the prestigious Dadasaheb Phalke Award, 2002, which will be presented to him on December 29. His son Suniel Anand speaks: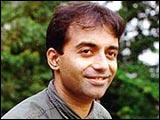 I don't want to stop working.' That is my dad's slogan.
Do you know what he was doing when he learnt that he won the Dadasaheb Phalke Award? Working on the script of his latest film, Song Of Life.

He has gone to Mahableshwar from Pune to attend a film function. He told me he had some ideas he would like to fine tune and also add the final touches to the script. He plans to start shooting in March 2004 and is preparing for his trip to USA where he will shoot the entire film.

He never gets tired of work. His motto in life is look ahead always. Never look back in the past.
| | |
| --- | --- |
| | More on rediff.com! |
| | |




Wish Dev Anand!
Phalke for Dev Anand

Profile of Dev Anand

It's Karan, not Khalid at the BO!

Top 5 - Aishwarya Rai!



I used to be very happy to see him in action. Touchwood, he has always been working no matter what came his way. As a child, I always felt that he is the most handsome in the entire film industry. I felt really proud when I learnt that he has won this prestigious award.

As a father, he was very loving. He always helped me out when I was low in life. No one in the [film] industry has anything bad to say about him. Acting and a good face is of utmost importance to achieve excellence in the film industry and my father has both the qualities.

He had a unique style of working and no one could touch him in those days, as far as style was concerned. He introduced a new genre of acting and stood apart from every actor in those days with his style.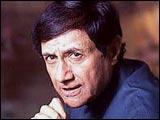 When I spoke to him, he was very happy to hear that he had won the award. He was overjoyed! He felt he had reached new heights with this award. He has won many awards.
But the Dada Saheb Phalke Award is one of the most prestigious awards of our country, so he feels this is an honour.

He said he was getting too many calls in his hotel room at Mahableshwar. It was not possible for him to take so many calls at once. In fact, the receptionist has kept a separate line for me.
I guess if you are Dev Anand and have won the Dadasaheb Phalke Award, you cannot avoid fans and well wishers from all over the world.

Suniel Anand spoke to Chief Correspondent Syed Firdaus Ashraf
Click here for More Features