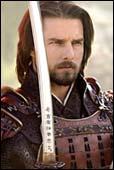 If Sergi Leone could teach Hollywood a few things about Westerns, and Shekar Kapur could show the British a way to make more interesting historical films, Edward Zwick can be forgiven for making a Samurai film, particularly one in which one of the heroes is an American.

The audacious idea has resulted in a lavish, at times gripping and fascinating, film that could have worked better had it not been this ponderous and had it packed in more emotional punches. The film could have turned into a serious study into the soul of a tortured man who, like some of the characters in Graham Greene novels, is running away from the painful reality at home but cannot shake off a troubling future.

It also lacks a sharp sense of danger and the rousing gusto that Akira Kurosawa slowly built up in his better known samurai epics.


| | |
| --- | --- |
| | More on rediff.com! |
| | |
The film's final battle scenes are rousing and would be talked about for quite some time but its best sequences are shot in a low key. Watch out for the scenes that the American soldier watches and learns samurai culture and fighting techniques.
Zwick explores an interesting idea of an American Civil War veteran who is finding it difficult to shake off his own battlefield demons, drawn into yet another civil war.
We first see Capt Woodrow Algren (Tom Cruise [
Images
]) punishing himself with too much alcohol and self-pity. He is performing a one-man show in San Francisco to sell Winchester rifles. We slowly understand that he has been traumatised by the massacre of an Indian village carried out under the command of Col Bagley (Tony Goldwyn).
Yet Bagley is not out of Algren's life. He and another army officer Zebulon Gant (Billy Connolly) persuade Algren to train the conscript army of the Japanese emperor who wants to modernise his country.
Algren realises quickly he is against formidable odds. One of them is posed by a band of samurai lead by Katsumoto (Ken Watanabe).
Early in the movie, Algren is wounded and captured by the samurai.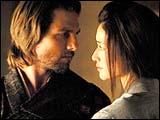 When Katsumoto spares Algren's life despite the harm he has inflicted on Katsumoto's men, the film begins to take a predictable turn. We now suspect the two foes are going to change their hearts towards each other.
In one of the film's unbelievable sequences, Katsumoto even lodges Algren with his sister, Taka (Koyuki), the widow of the samurai the American had killed.
Even then, things are not going to be easy for Algren. For he has to take a lot of beatings from one of his bitter foes among the samurai, Ujio (Hiroyuki Sanada).
Soon Algren goes with Katsumoto to Tokyo for a political showdown with the emperor (Shichinosuke Nakamura) and businessman Omura (Masato Harada), who wants to modernise Japan [
Images
]. But Algren suspects he is doing it for his own personal gains.
In Tokyo, Katsumoto is arrested and offered the choice of taking his own life. Algren and the other samurais free Katsumoto and they flee from the imperial army.
But they know they will have to confront the emperor's large and comparatively modern army. A big challenge to the two men is how to neutralise the big guns so the Samurai can have an advantage in hand-to-hand combat.
In underplaying his role, Cruise not only pays homage to Stanley Kubrick [
Images
] who got excellent work out of him in
Eyes Wide Shut
but also to Kurosawa. It takes some minutes to appreciate Watanabe's stoic expressions, but soon, we realise that under the seemingly passive face lies a raft of emotions. 
Timothy Spall is fairly amusing as an English photographer fascinated by Japanese culture. Model-actress Koyuki brings plenty of sensuality to the film.
John Toll's cinematography not only enhances the film's epic sweep but also captures its intimate moments. Musically, the film disappoints. Hans Zimmer [
Images
] sticks mostly to Western music.
Didn't Zwick and Zimmer see The Last Emperor?
CREDITS
Cast: Tom Cruise, Ken Watanabe, Timothy Spall, Billy Connolly, Tony Goldwyn, Hiroyuki Sanada
Director: Edward Zwick
Writers: John Logan [ Images ], Edward Zwick, and Marshall Herskovitz
Running time: 2 hours 32 minutes
Rating: R for battle scenes, language and mild sexuality
Distributor: Warner Bros