Guess who's getting tips from Shah Rukh Khan lately?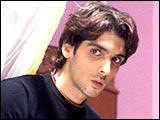 On the sets of Main Hoon Naa, Zayed Khan got dollops of help from SRK. The latter is going out of his way to help the Chura Liyaa Hai Tumne star.

Director Farah Khan who has signed him on for her directorial debut Main Hoon Naa says, "He is as different from SRK as chalk and cheese. That's what I needed for my film. Once this film is released, everybody will sit and take note of this boy!"
From posing to clicking!

Model Ranjeev Mulchandani, better known as Aishwarya Rai's former boyfriend, makes an entry in Bollywood in a rather unconventional manner.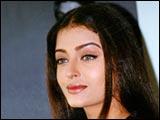 Currently a deejay settled in Goa, Mulchandani is clicking photo stills of Farhan Akhtar's Lakshya (Amitabh Bachchan, Hrithik Roshan, Preity Zinta) in Ladakh. He has been there for a month.
Buzz is that the pictures are so good they may even turn it into a book.
Bhumika and her band of boys
Barely 21, Bhumika Puri now makes a debut in films. Having modelled for innumerable music videos and advertisements, Bhumika features in Kiss kisko along with the UK-based composer Vikesh Mehta and the Band of Boys. This model-turned-actress loves the theatre more than films or music videos.
| | |
| --- | --- |
| | More in Rediff! |
| | |
"There is only one take and nothing can help you, if you flub it. You have to be more alert and with it." Her character in the film, which is due for an August release, is glamorous and modern.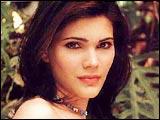 "All five boys woo me. That would be a dream come true for anyone, " she laughs.

Bhumika says she fell in love with her role, "When I got the script, I just kept reading it till the last page. The role was so interesting."
What made the producer sign her over a bevy of beauties according to her, was the "the attitude I walked in with." 
But Bhumika loves emotional death scenes. "I can cry without any glycerine," she adds.
Milap's new beat

The man to benefit most with the response to Sanjay Gupta's Kaante and Sujoy Ghosh's Jhankaar Beats is writer Milap Zaveri. The 23-year-old penned the dialogues for the above mentioned films.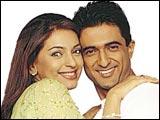 Zaveri has eight films on hand, including Pritish Nandy Communication's Sahib Bibi Aur Ghulam and Ramesh Sippy's next.

Zaveri is also venturing into writing screenplay and story besides dialogues. "They both have their own structure and merits. But the screenplay is the soul of the film." 
The young writer enjoys scripting romance and comedy and plans to turn director soon.
Click here for More Reports