After Satya and Jungle, Ram Gopal Varma is back with another hard-hitting film.
Titled Company, the film stars two National Award winners -- Mohanlal and Ajay Devgan -- and Manisha Koirala. Newcomer Vivek Oberoi (son of actor Suresh Oberoi) also acts in the film.

Ramu, as Varma is fondly known in the industry, is all praises for Vivek. The director has already signed the newcomer in two of his home productions.
We are on a deserted road in Bandra-Kurla complex, Bombay. Some fans have come to take a peek, in spite of the scorching sun. Four cops control the crowd.
While four cops control the crowd, Ramu is busy chatting with his cameraman.
Finally, the camera rolls. It is a roadside scene. Ajay and Manisha are chatting, when suddenly they spot someone across the street.
Manisha pleads with him to control his temper. But Ajay gets too worked up.
The duo rehearse but something keeps hassling Manisha.
No, it's not her lines. It's not even the sun. It's her hairstyle. She wants to keep it natural.
However, Ramu is convinced that the actress looks good with the wig on.
After some discussion, she relents.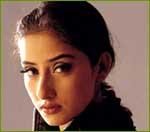 "I'm glad I got to work with Ramuji. This is the first time I'm working with him. My differences with him were amicably worked out," says Manisha. "This year has been good for me, especially with Lajja getting so much applause. I am only going for great roles, which challenge me as a performer. Company is one such film. Ajay is a friend, so I'm cool with him. And working with Ramuji is a new drive in life. There is so much to learn from others."
Retouching her makeup, Manisha goes for another take.
Whil she puts her errant hairdo in place, Ajay is spotted dreamily dragging on his tobacco stick.
The shot is ready. Ramu explains the camera movements to both the actors.
There is no dialogue because the scene being shot is just a cue for the next one.
The camera moves from Manisha to Ajay. It stays there capturing every emotion on his face. Ajay does it perfectly, as Ramu yells 'Cut' excitedly.
Speaking about the film, Ramu says, "I am glad to have two National Award winners in my film. Ajay does have a lot of potential and he has proved it time and again. Even Manisha. I hope the film turns out the way I have planned it."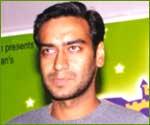 Ajay is unfazed by all the praise he's been getting. "What can I say if Ramu praises me? Of course, it feels good. I think he's a great filmmaker. I'm enjoying every moment of acting in this film. Especially since I'm getting to work with the best in India -- Mohanlal."
India News Feature Service