Shobha Warrier
Director Priyandarshan is making yet another Mohanlal film, originally in Malayalam, in Hindi.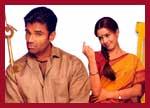 No, it's not the Sunil Shetty-Mahima Chaudhry starrer, Yeh Teraa Ghar Yeh Meraa Ghar, which will hit the Indian theatres October 12. And yes, it is also an adaptation of a successful Mohanlal black comedy, Sanmanasullavarkku Samadhanam.
Priyadarshan's next film is an adaptation of Thalavattam, inspired by the award winning film, One Flew Over The Cuckoo's Nest.
A good thing about this director is that whenever he is 'inspired' by a Hollywood film, he makes sure the inspiration results in a realistic Malayalam film. If Jack Nicholson's role has no humorous side to it, Priyadarshan will write a screenplay to suit Mohanlal's image as a very likeable, funny character.
Mohanlal makes comedy look effortless and elegant. He is hilarious, but seldom comic. He gives comedy a new dimension with his sense of timing and grace.
All those films were successful commercially, too.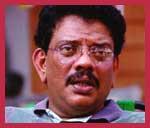 The first Mohanlal film to be remade in Hindi was, perhaps, Kilukkam. It was horrible watching Jay Mehta trying hard, and failing miserably, to do what Mohanlal did -- so convincingly and effortlessly -- in the original.
Then came Gardish. The film had Jackie Shroff in Mohanlal's role. It was a sensitive and poignant remake of Kireedom, directed by Sibi Malayil, based on Lohita Das' story. It dealt with how society's attitude transforms an innocent, simple man into a most-wanted goon.
Neither Gardish nor Jackie Shroff's performance had the sensitivity of the original.
Priyadarshan's Thenmaavin Kombathu (Mohanlal, Nedumudi Venu and Shobhana), is a classic, as far as comedies are concerned. But it rather sad to watch Arvind Swamy and Juhi Chawla enact the same roles in the Hindi version, Saath Rang Ke Sapne.
No wonder the film bombed. The original was a blockbuster.
Sanmanasullavarkku Samadhanam was made in the 1980s, when Mohanlal was in his mid-20s. There was an element of vulnerability and innocence in him.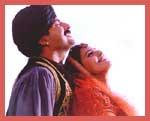 As a person who thinks Mohanlal was inimitable in the film, I am eager to see how close Sunil Shetty can come to the original in Yeh Teraa Ghar Yeh Meraa Ghar.
Thalavattam, on the other hand, was a comic tragedy. Mohanlal played an inmate of a mental asylum, who was adorably naughty, engaging himself in all kinds of pranks. In the end, he is made a vegetable by a doctor. Another successful film from Mohanlal-Priyadarshan combination.
Mohanlal's mother once told me Thalavattam was one film that she could not watch. It frightened her. "I told my son not to act in such films. He consoled me, saying it was only a film, and nothing had happened to him. It depressed me very much. I couldn't watch him lying on a cot like a vegetable. I always walk out before that scene."
Priyadarshan has cast Shah Rukh Khan in Mohanlal's role. I am curious to see how he interprets the character.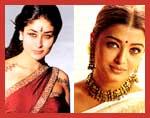 There were two women in Thalavattam. One was Mohanlal's ladylove, enacted by Priyadarshan's wife Lisy who appears only the flashback (as she was murdered quite early in the film). The other woman is a doctor who, while treating, falls in love with him.
The Hindi version has Aishwarya Rai and Kareena Kapoor. Naturally, Priyadarshan plans to extend the role of the hero's love interest, so that both heroines remain till the end.
ALSO READ:
The Yeh Teraa Ghar Yeh Meraa Ghar music review
On the sets of Yeh Teraa Ghar Yeh Meraa Ghar
Mahima plays house with Sunil