She has the guts to take on any role and work with any director, provided the script is challenging enough. Starting with

Prem, Tabu has graduated to films that are different from the regular run-of-the-mill and have a social message.

She has the soul of an aesthete, too. She dabbles -- rather heavily -- in poetry, and has written quite a few poems. Though she claims they are not good enough to be published just yet.

Her latest film, Chandni Bar , releases Friday. Bharati Dubey met the actress to learn about what she calls one of her better roles.

Tell us about Chandni Bar.

It's one of the better roles of my career. And I didn't really visit a dancing bar -- the script was very detailed and self-explanatory. Madhur (Bhandarkar, director of the film) knew exactly what he wanted.

But has Tabu added her personal touch, her trademark?

*laughs* That I don't know. Why don't you see the film and tell me?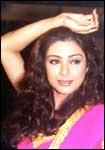 You sound quite instinctive. Or is it impulsive?
I always go by my instinct. Not impulse. I should be able to visualise myself in the roles offered to me. Only then, can I go ahead and do it. If it looks hazy, I just don't take them up.
Why don't you take up song and dance roles? Why do you always opt for different roles?
That's because no one comes to me with those kind of roles anymore. But I count myself lucky for getting these different roles where I get to portray so many kinds of characters. Others are not so lucky.
Does Chandni Bar have songs in it?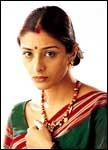 No, it doesn't have a single song. It has only record dances.
What made you sign the film, considering Madhur is only one film old?
There are no set rules that one should work with a certain set of directors only. Every director has his sensibilities. Madhur's script was so clear that I could visualise it clearly. So I did it.
How important are awards to you?
I don't work towards winning an award. But if I get one, I'm extremely happy about it.
Any dream role?
Every role that comes to me is a dream role. I must warn you: What you have seen is just the tip of the iceberg. There is a lot more to come.
Also read:
Of slums, bar girls and Tabu
Her involvement is amazing