'It's as if somebody destroyed the Taj Mahal'
Tanmaya Kumar Nanda in New York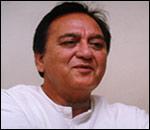 Survivor. That sizes up Sunil Dutt in a single word.

The veteran actor is a living example of what it means to take the ups and downs of life in one's stride.

In 1999, Dutt met with a car accident which left him paralysed from the neck down. He had not recovered from it when he met with a plane crash. Even today, he uses a walking stick and his neck is wrapped in bandage.

Undeterred, Dutt (a parliamentarian, who won the North Bombay West seat thrice), has lent his support to condemn the terrorist attacks in New York, by attending a peace rally in Jackson Heights, September 22.

"I have always been a pacifist. I have conducted many walks: From Bombay to Amritsar, at the height of militancy in 1987; from Nagasaki to Hiroshima in 1988; and in Singapore for Netaji Subhash Chandra Bose's Indian National Army in 1995. Now I am trying to share New York's sorrow," he tells rediff.com, shortly after the rally.

Dutt is in the United States for medical treatment as well as raising funds for the Nargis Dutt Cancer Foundation, named after his late actress-wife, who died of cancer. "My wife wanted cancer medication to be available to poor people in India, too. So we hold annual fundraisers in the United States," he explains.

When he heard of the tragedy, Dutt says he cancelled all five fundraisers: "It would have been too insensitive. I was at Orange County, California, when a friend called me at 0600 hrs to tell me what happened. I was ashamed of being a human being. What sort of a species are we? How could anyone do something like this?"

"I couldn't sleep; I'm still trying to find an answer. We believe in God. But no God encourages killing people."

"Terrorism has no region," he says, adding, "if you want to eliminate terrorism, go after the terrorists. Don't mix religion with terrorism. Decisions should be taken after a lot of thought so that innocent people are not killed," continues Dutt, the first Indian actor to visit the border to entertain and boost the Indian soldiers during the Indo-Pak war in 1965.

Dutt says it is not right to attack a particular religion or a particular people: "The Israelis went after each individual for years, tracked them down and brought them to a court of law in Israel. But they didn't kill their children or grandchildren."

According to Dutt, South Asians must act as ambassadors in this time of crisis. "The common American is unaware of certain customs and religions. Every man with a turban is not a terrorist. Since America is a multinational, multireligion country, South Asians must make their American friends aware of the difference."

He also admires the pace at which the American government has been acting. "They have taken care to ensure they are not rushing into anything." Dutt recalls a conversation with a South Asian New York taxidriver, "He told me if this had happened in India, there would have been riots by now."

These attacks, he feels have no comparison with the Bombay bomb blasts in March 1993 with the September 11 attacks. "The Bombay blasts were part of a chain of events, just as the 1984 anti-Sikh riots in New Delhi. I don't know what link is, here. It's as if somebody destroyed the Taj Mahal."