Hollywood's worst weekend
Som Chivukula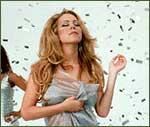 In a classic understatement, 20th Century Fox honcho Bruce Snyder admitted the studio's latest release Glitter's box office was just plain "disappointing".

The film, debut vehicle of pop star Mariah Carey, pulled in just $2.5 million over the weekend, placing it out of the Top 10. Model Padma Lakshmi (author Salman Rushdie's girlfriend) also has a cameo in Glitter.

A dumbfounded Snyder, president of domestic distribution for 20th Century Fox, says, "With the climate in this country, I don't think I know quite what's going on."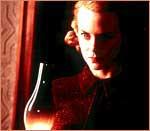 However, one film saw its box office increase from the previous weekend. The Nicole Kidman-starrer The Others made $5.2 million -- good enough for second place.
"It was up by nine per cent from the previous week," states Boxofficeguru.com editor Gitesh Pandya. "It has strong word-of-mouth and there are no strong films out there for people to see."
Glitter, which is about a singer eager to become a big star (and bears similarities to Carey's life), was also critically panned. "Helplessly clichéd, predictable and unaware of its own lameness, it could easily become a camp classic," writes Jonathan Foreman in the New York Post.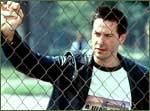 The rest of the box office did not fare much better. Hardball, the Keanu Reeves starring baseball drama, held on to the top spot with just $8.2 million. In two weeks, it has pulled in a modest $19.4 million, with a $20 million price tag.
Nearly two months after its release, The Others, made at $13 million, has grossed $80.2 million. If it holds up the next two weeks, the thriller might end up with $100million in North America.
The Top 12 films grossed just $44.2 million, making it the worst weekend of the year. The slow box office will get some much-needed zest with three films this weekend: Ben Stiller's Zoolander; the Anthony Hopkins-starring Hearts In Atlantis and the Michael Douglas thriller Don't Say A Word.