American Desi now in Britain
Som Chivukula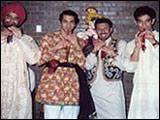 After a successful run in North America, where it earned nearly $1 million, American Desi will now release in the United Kingdom on Friday. Several major markets like London, Birmingham, Manchester and Sheffield will witness the release.
Co-producer Gitesh Pandya said. "We were concerned whether the British would understand some of the jokes, but the response (to test screenings) has been great."
Scenes in which an Afrocentric Hindu homeboy, played by Kal Penn, appears were of particular concern. Pandya said, "Some jokes on his character are so American. But the audience seemed to get it."
American Desi, which cost $200,000, also stars Deep Katdare and Purva Bedi in the lead roles. It is about an Indian American rediscovering his heritage in college when he falls for an Indian American girl.
"This is a feelgood film," said Eros Entertainment CEO Ken Naz. "We decided to take on this film (because) we felt it was a film people would have a good time with."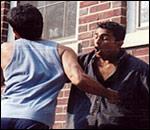 Eros Entertainment is the worldwide distributor of American Desi, the first English feature it has released. Eros is opening the film on 40 screens in the United Kingdom, to be followed by an India release.
"It's a film we had a lot of expectations for and has been one of the biggest hits of the year -- definitely in the top five," Naz observes. "Watching it in a theatre full of people is the best way to see it."
Though it opened to lukewarm reviews, American Desi was fueled by strong word-of-mouth. Many teenagers and young adults enjoyed its accurate portrayal of the Indian American experience in college. Its DVD, which will contain dubbings in six languages, is slated for a release later this fall.
With the success of American Desi in North America, Naz says Eros Entertainment is encouraging Indian American filmmakers to exhibit their works. The company has also bought the rights to ABCD, which releases November in the United States.
The success of American Desi is not limited to its distributor. Many of its stars have met success in other films and notable television appearances. Bedi played a third-year medical student on the season premiere of ER last year.
This year, Penn makes his comeback of sorts to television. In October, he will appear on ER and The WB's Angel. He plays a medical student in the former and a supernatural being in Angel, a spin-off on the hit Buffy The Vampire Slayer.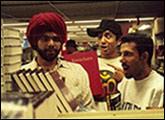 Both shows feature Penn in small roles. He has a scene with Eriq LaSalle in ER.
"I always wanted to do ER since I was in high school," Penn said. "I thought I might be playing a patient but playing a med student was a great experience."
Penn has also appeared on Spin City, Sabrina the Teenage Witch and Buffy. He also has a lead role in the Tara Reid (American Pie)- Ryan Reynolds starrer, Party Liaison, which releases January 2002.