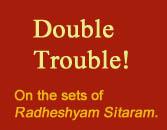 A ction appears to be the order of the day.
A fight sequence has just been wrapped up. A peek into the camera has you wondering whether you're seeing double.
Your eyes haven't deceived you. This is N Kumar Group's Radheshyam Sitaram, starring Aishwarya Rai and Sunil Shetty in double roles.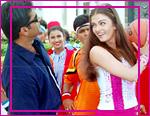 Director Anees Bazmee (Hulchul and Pyaar To Houna Hi Tha) has Bombay's Hotel Horizon in a tizzy.
Ash steps out for her shot. Clad in a golden yellow salwar-kameez, sporting an elaborate hairdo, the actress looks almost surreal.
Her attendant is having a rather tough time keeping ardent admirers at bay, as they fight to catch a glimpse of her. Ash, meanwhile, is busy on her phone.
Over to Sunil Shetty.
Describing the film as a remake of Comedy Of Errors, Shetty says, "I play Ram and Shyam with Aishwarya, who's also in a double role. Which means there's total chaos. It's a fun film, a complete entertainer."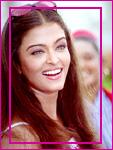 Shetty fans would recall his double role stint in Gopi Kishen. At the moment, with his plate full with assignments, Shetty is obviously pleased: "I am happy with the way my career is shaping up. I have Mahesh Manjrekar's Ehsaas and Ripples Pictures' Yeh Teraa Ghar Yeh Meraa Ghar on hand. Working with different directors has been a great experience."
Radheshyam Sitaram has been in the making for almost four years. Earlier, Ash wanted to back out of the film, due to problems with the producer. Now, however, all's well.
And director Bazmee is thrilled with the final product. "People will really enjoy this film. I love making comedies. Since both Ash and Sunil have double roles, all the situations created are funny."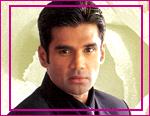 "One pair has Ash playing a thief and Sunil, a smalltime crook. The other pair has Sunil playing a police inspector and Ash, a lawyer. The film has turned out well. We plan to release it around Diwali," the director adds.
Meanwhile, Ash and Sunil are facing their duplicates, dialogues in hand. The two are clearly enjoying themselves. Sunil, in black, is sporting an eye mask.
After the shot is okayed, Ash says, "Playing Sita and Radha was not at all a problem -- I enjoyed it. I had signed this film when I'd just entered the industry. But destiny had other plans for this film and me. I hope it turns out fine."
India News Feature Service