'I miss my wife'
The 'Bad Man' of Hindi cinema is going through a severe emotional turmoil.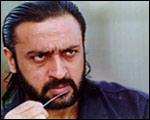 Gulshan Grover's second marriage has fallen apart and he and his wife Kashish are officially divorced. Numerous reports speculate the reasons behind the split. In an exclusive interview with Sarita Tanwar, Gulshan finally lays all rumours to rest and tells it like it is.
Is it true that you and your wife Kashish are officially divorced?
Yes. And I really regret this. A divorce, even if it is by mutual consent, is always more painful for the woman. I sincerely hope that she gets over this as soon as possible.
What went wrong?
Even though the divorce is official now, we separated over ten months back. In fact, we drifted apart just a few months after our marriage. But at that time, both of us were trying our best to make things work out.
But it didn't.
Ten months is a long time. What made you wait so long before announcing your split?
Initially, I was trying my best to work things out. Even now, I feel hurt just talking about it.
The only reason I'm opening up now is because at some point, I will have to tell people that we are no longer together. I have to give her the respect she deserves.
You know, there are times when friends and co-stars call me over and say 'Get your wife'. Or sometimes they come over to my house and they ask 'Oh, where is she?' Till now, I kept making some excuse or the other. But now that the divorce has come through, I feel everyone needs to know. It will save both of us lot of embarrassment.
She is much younger than you. Was there a communication gap because of that?
No. Age has nothing to do with maturity.
We were fine when we were going out. But I realise now that there is a huge difference between a girlfriend and a wife. Your girlfriend only sees what you want her to see. But you cannot hide anything from your wife. Maybe after marriage, we discovered that we were two completely diverse personalities.
Reports say that there was a lot of tension between Kashish and your son Sanjay...
My son is my greatest obsession. In fact, this may be a problem for any woman I will be involved with. No one can ever take his place. My son is my life.
Kashish failed to find any meaning behind that. There was never any problem between her and my son. But there were problems between her and me concerning my son. I really would not like to get into details because it would get very ugly. I will just say that it was all my fault.
This has been your second marriage that has broken up. Does that make you wary now?
Well, it's definitely nothing to be proud of. I married Kashish because I thought we connected. I was wrong. Right now, I don't want to think about an involvement of any kind.
My son just came down to spend some time with me and that was enough for me. For now, we have each other. Besides, I'm getting down to concentrating seriously on the work front. I've just finished shooting a major Hollywood production starring Sean Young. Even back home, I'm getting some really good offers.
Do you miss your wife?
I do.
But it's not like we have decided never to speak with each other again. She's a phone call away.
Do tell us what you think of this interview