Akshay Kumar is on a high.

His career is just fine, with

Ajnabee drawing rave reviews.

Marriage has him rooted. In fact, the erstwhile ladies' man is now advocating planned parenthood on television with a smiling picture of him and wife Twinkle in the background.

Excerpts from an interview:
Your last release, Suneel Darshan's Ek Rishtaa did moderately well but didn't match the response that Suneel's earlier film Jaanwar got...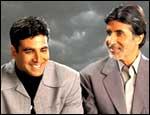 According to me and industry pundits, Ek Rishtaa did good business and I am thrilled about it. Let's not compare it to the other films.
The audiences liked the family drama and appreciated my performance. That's enough for me. We did really well in the interiors, especially the North, which the trade pundits don't count in the box office collection. So Ek Rishtaa was quite a fulfilling experience.
Tell us about your experience with Amitabh Bachchan, with whom you worked in Ek Rishtaa and now in All The Best
He is like a father figure. But that was how the atmosphere on the Ek Rishtaa sets was.
In All The Best, we are more like buddies! I feel, the more I learn from him the better. He is amazing. And the best thing about him is his humility. Every shot is a lesson.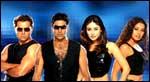 All The Best is very different from Ek Rishtaa. It's a thriller that will keep you on the edge. It has lots of comedy too.
Tell us about Ajnabee.
Ajnabee is a thriller. It's a very bold film.
The film's caption says 'never talk to a stranger'. The film deals with people and their misconceptions about strangers.
The film is not based on Consenting Adults because that film is about wife swapping. In India, people will not be able to digest a concept like that. But we do come close to it.
Working with Abbas-Mustan after Khiladi has rekindled old memories. No time was wasted on getting to know each other.
I am looking forward to my next film with them.
Which other films do you have on hand?
I have Dharmesh Darshan's Haan Maine Pyaar Kiya (with Abhishek Bachchan and Karisma Kapoor), Vikram Bhatt's Awara Pagal Deewana (with Sunil Shetty and Aftab) and Vipul Shah's All The Best (with Amitabh Bachchan, Arjun Rampal and Sushmita Sen).
You have worked with the Kapoor sisters, Karisma and Kareena...
I have done only Ajnabee with Kareena, whereas Karisma was my first heroine in Deedar. I think I have done 11 films with her till date.
Both are as different as the North and South poles! Kareena is jovial and open, an extrovert who does what she wants. Karisma is more diplomatic in what she does and what she feels about people. I think Karisma has learnt a lot through her experiences. Kareena's still learning.

Do you plan to stick to romantic roles and abandon the action hero?
No. I won't abandon him. *laughs*
Earlier, since I was insecure, I did a lot of films, which I should have avoided. Now, I would rather concentrate on acting. I want people to realise that I can act too. They think I am good only at stunts. But that is not the case. Dhadkan, Jaanwar and Sangharsh have proved my acting ability.
But I won't stop doing action altogether. I have a really exciting scene in All The Best where I shot with real sharks in a pool. It was a thrilling experience. I trained for it for days before the scene was actually shot.
Ajnabee, too, has action stunts. I can't abandon action because I am addicted to it. I love the thrill of falling off 10-20 feet. But my concentration will definitely be performance-oriented, now that I have made a niche for myself.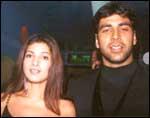 On the other hand, I feel disappointed when a great action film like Khiladi 420 doesn't win the best action award. Not for me, but the action director. I don't think there was any other film last year that had action better than Khiladi 420.
How does it feel being married?
Well, just that I have someone waiting for me at the end of the day. But other than that, it doesn't feel any different. I haven't changed as a person. I have more responsibilities, which I enjoy carrying out.
Marriage is the best thing that happened to me.
And before you ask me, Twinkle is not pregnant!
India News Feature Service
Do tell us what you think of this interview