Moulin Rouge credits omit Anu Malik
Subhash K Jha
It could have been popular Hindi cinema music director Anu Malik's gateway to international success. But an oversight has robbed him of all credit.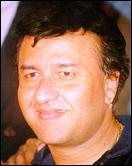 When internationally renowned director Baz Luhrmann decided to include Anu Malik's composition, Chamma chamma, in his musical, Moulin Rouge, starring Nicole Kidman, Malik was on cloud nine.
But his joy was shortlived.
While both lyricist Sameer and singer Alka Yagnik have been credited for on the soundtrack of the film, Malik's name is missing on the cassette and CD sleeves.
"I'm very upset about this," says Malik, even as his latest soundtrack album for the film Asoka climbs rapidly up the charts.
He point out, "I'm contemplating legal action. I don't know who is responsible for this omission. I'm deeply upset that the lyricist and singer are mentioned, not the man who composed the tune.
"The music company (Universal) says it is a mistake. Even if they put my name in the credits in future the damage is done. I don't know what to do."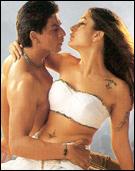 Incidentally, Asoka (Sony Music), released this week, is responsible for a similar oversight in the credit details. This time, the aggrieved is popular playback singer Alka Yagnik, whose O re kanchi on the CD and cassette jackets of Asoka have been credited to pop singer Sunita Rao.
"I've already pointed out this grave mistake to the music company. I've nothing to do with it," claims Anu Malik.
When contacted, Alka Yagnik said she hadn't seen the faux pas on the cover of the music album. However, she said she was informed about this by Juhi Chawla, a partner of Arclightz & Films that produced Asoka.
"Juhi apologised profusely about the mistake," says Alka. "The funny thing is the singer (Sunita Rao) who has been credited for the song doesn't sound anything like me. O re kanchi is not her style at all. I don't think she has anything to do with the song."
She adds, "I'm told there's been a mess-up at some stage in the music production, though no one knows where. Juhi wanted to tell me about it before I saw the bloomer and got upset," she says. "But I suppose people whose opinion matters would know it's me. Even the common man can tell one voice apart from another."

"I plan to ask the music company about it. This kind of damage has been done to so many artistes in the past. I don't know why music companies aren't more careful about such matters," Yagnik says. "In fact, my next non-film album, featuring Hariharan and me, Javed Akhtar's lyrics and Raju Singh's compositions is being released by Sony."
When contacted, Sony Music denied responsibility for the goof-up, claiming the incorrect credit details had been sent from Arclightz & Films.
Wrong or missing credits have been part of the music business in India for a while now. Recently, a duet by Lata Mangeshkar and Udit Narayan composed by Uttam Singh for Dil Ne Phir Yaad Kiya was credited to Aadesh Shrivastava on the cassette cover.
Indo-Asian News Service