'I bought Shah Rukh for Rs 10,000'
Sharvani Pandit

Shah Rukh Khan, Madhuri Dixit and Michael Jackson strike a majestic pose against the vast expanse of sands, about 45 km outside the golden city of Jaisalmer.

Soon, with a disdainful look and a twitch of their tails, they vanish into the horizon.

They are part of a herd of nearly 800 camels,three of which are named after the stars that help their gaunt, sunburnt owners earn a meagre existence.

Sem, a two to three kilometre sand dune stretch outside Jaisalmer in the desert state of Rajasthan, serves as a reminder of the harsh climate. That was before the water brought in by the mammoth Indira Gandhi Canal irrigation project in the mid-1990s turned the northern expanse of Thar desert green.

Today, Sem, about 60 km from the border between India and Pakistan, is a valuable source of fast money for the predominantly nomadic cattle-grazing community in the district.

The men offer their camels -- all named after prominent Hindi film stars -- for rides to tourists who come to the area in droves in the winters.

Camel herder Bhasher relies on his camel Shah Rukh Khan, which cost nearly Rs 10,000, to earn Rs 1,000 to Rs 1,500 each month. "If I do not get even that much, my family will starve," he says.

His family and some 45 others from nearby villages flock to Sem during the tourist season in Rajasthan that begins September.

In the next six months, if the tourist traffic is high, they will earn about Rs 8,000 -- a minor fortune which enables them to survive the harsh summer.

Shah Rukh is a bright eight-year-old. Fast turning multilingual, he responds to Hindi, English, Rajasthani, French, Spanish and Italian, and a multitude of other languages, quickly adapting to his rider's voice.

"All camels here understand a lot of languages. So do our children. They know the money that feeds us comes from here," Bhasher told IANS.
But Bhasher will not find a mate for Shah Rukh until he is 12. "If I find him a Madhuri (Dixit) now, he will become lazy. He will not do any labour."
For their owners, these ships of the desert are also a hardship. Camels are a costly commodity in Sem and other parts of Jaisalmer. They cost anywhere between Rs 5,000 and Rs 20,000.
Rashid Khan, who owns Jiju, says: "My camel eats 20 kg of feed in the morning and 20 kg in the evening. It was hard to get her food the last three years during the drought."
"This year, thank God, the rains came. Otherwise, I don't know what I would have done."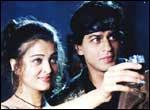 With tourists thronging the golden splendour of Jaisalmer at sunset, villagers who run camel safaris have a steady source of income. "More and more of us have started camel safaris for the money," says Khan.
The Rajasthan Tourism Development Corporation (RTDC) and hotels around Jaisalmer have contracted some herders to provide their camels for pleasure rides. Apart from their monthly wages, they also get tips -- Rs 50 (the minimum they expect) to the more generous Rs 500.
While rides on undulating waves of sand, bemusement at dung beetles scurrying in the dunes and comments like, "Madam, you look like Aishwarya (Rai) on top of Shah Rukh," delight tourists, a thread of tension also runs alongside.
Camel herders at Sem are predominantly Sunni Muslims. The approximately 80,000 Muslim camel herders of Jaisalmer have formed camel associations and gangs and dominate the tourist trade.

Every once in a while, an emaciated herder like Dhani Ram (name changed), comes pleading to hotel authorities for work, saying his "crops have failed" and his "family is starving." He goes back empty-handed, allegedly "boycotted by Muslim camel herders."
In the summer months, the herders participate in State-run camel breeding programmes and farm along the canal.
Come September, they are back with the Sridevis, Juhis, Hrithiks and Fardeens dotting the Sem skyline in caravans with some new and old friends, who want to go for a ride into the desert.
Indo-Asian News Service