Last man standing
Subhash K Jha

Manoj Bajpai has signed on as one of the ten leading men in J P Dutta's new war opus.

"Yes, I've signed J P Dutta's film," Bajpai confirms. "He hasn't told me anything about my role or the film. But for me, it's enough to know that I'm working with one of the greatest directors of Indian cinema. He asked me to trust him about my role. I see no reason not to."

Dutta is in the process of finalising what promises to be the mother of all war epics. Several of the top leading men, including the striking Himanshu Malik (Tum Bin) have already been signed on to play the key roles.

Currently, Dutta is doing extensive research on his subject and meeting the relevant officials for permission to shoot in sensitive defense-related zones.

"If this project works out, my war trilogy -- which began with Border and Refugee -- will be concluded, " the director states.

Bajpai is the last leading man to be pencilled into, apparently, the most expensive project ever in the country.
"Every ambitious actor in this country craves to do at least one film with J P Dutta," says Bajpai.
Bajpai denied rumours about him playing a special role in Ramgopal Varma's underproduction gangster epic, Company, saying, "No I'm not doing anything in Company.
"Ramgopal Varma is shooting his film in Hong Kong now. If I was in the film I'd be there, not celebrating the signing of J P Dutta's film in Bombay," he justifies. "The only Ramgopal Varma film I'm doing right now is Road, to be directed by Rajat Mukherjee."
It was Ramgopal Varma's underworld saga Satya that established Bajpai's reputation as a powerful actor.
Meanwhile, Himanshu Malik is ecstatic about being part of Dutta's new project.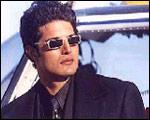 "I can't believe my luck," Malik raves. "To be working with him (Dutta) so early in my film career is like a dream come true.
"Since my father was an officer in the armed forces, I always wanted to join the army. Since I couldn't fulfill the ambition in real life, I'll do so in reel life!" adds Malik. The fashion model has already begun intensive physical preparation for his new role.
The film will go on the floors next month.
Indo-Asian News Service