'Children are a barometer by which I judge myself'
Sharvani Pandit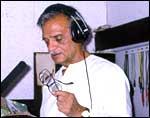 Can literature exist in Hindi films? "Yes, most definitely!" eminent poet-director Gulzar says. "One just has to find it."

"For me, even the song Goli maar Bheje Mein (Satya) is literature. To the average man, it may be a series of nothing, but to me the words speak of a tormented mind," Gulzar says. "The man wants to be shot in the head as his brain is full of tormenting ideas."

Dressed in a crisp white kurta-pajama and golden jutis, he took on a packed audience tongue-in-cheek at the India International Centre, New Delhi.

Gulzar was in the capital 'to seek myself'. He says, "Man can get swayed easily, especially poets. I come here to get in touch with reality, to see whether my brush with life -- its pain, hurt, joys -- speaks to you like it did to me."

Mesmerising his fans with a delightful sense of humour that rarely comes forth in his films, he addresses the 400-odd people present with a wink. "This incorrigible man has commanded that I stand and speak, but for me to rise up to the praise showered on me, I will either have to wear high heels or get a ladder!"

Soon he spoke about his experiences and how they turned him into a lyricist-poet-director.

Born in Deena in Jhelum district (now in Pakistan), Gulzar belongs to a family of conservative businessmen, who came to India during the partition of the Indian subcontinent in 1947. His family set up shop in Roshanara Road in the old quarter of Delhi. Gulzar spent most of his childhood in school or at the shop.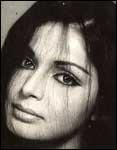 "With a lot of spare time, I started borrowing books from the tiny libraries there. I used to envy a boy -- Akbar Rishi -- as he had a knack for remembering poetry. During poetry class, I would cheat a lot to score marks. That perhaps was my first brush with creativity.
"I loved to read so I taught myself Bengali after reading a translated work of (Nobel laureate) Rabindranath Tagore. From then, the journey from the language Bangla to the Bengali woman (ex-wife actress Rakhee) was beautiful," he says wryly.
"I left for Bombay in the 1950s, after the partition riots. I can still see the carnage before my eyes," he continues.
"The stench in Roshanara, charred bodies being scraped from the streets and dumped in trucks, the boy who taught us Urdu in school being dragged along the street with a chord around his neck -- I relived these images for the next 25 years. I would wake up shuddering at night, soaked in sweat."
After his first song for Bimal Roy, Gulzar still wasn't sure about writing for films. One day, Roy came to him with a song by lyricist Shailendra on hunger strikes by trade unions. "I said it was good literature, and Bimalda told me "be true to your vision and literature will create itself, be it films or your work.'"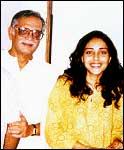 From being a motor mechanic in Bombay, Gulzar went on to write songs and scripts for more than 50 films. He took to direction with Mere Apne (1963), picked up the National Award for Direction for Mausam (1976) and made films like Anand, Aandhi and Hu Tu Tu.
He won a host of awards including at least five National Awards, the most recent being the best film award for Maachis (1996).
Gulzar loves to write for children. "They are a barometer by which I judge myself," he says.
"Not many people know, but I first started writing children's books when my daughter (Meghna) was three. It was a duty and a source of joy to see myself through the eyes of a child. I wrote 13 books for her, one for each birthday till her late teens."
And he hasn't stopped since. Today, he is writing for Meghna's directorial debut Filhaal.
Indo-Asian News Service