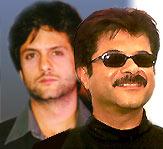 Hotel Horizon, Bombay, is abuzz with activity.
The sets, erected within the confines of the hotel, resemble a pretty cottage-like dwelling. It is the home of actor Anil Kapoor and his onscreen mother Waheeda Rehman.
With Om Jai Jagdish Anupam Kher turns director, post success of Bariwali (which he produced), and debacle of Sawaal Dus Crore Ka... (which he hosted along with Manisha Koirala).

Complete with a talented cast comprising Anil Kapoor, Fardeen Khan, Abhishek Bachchan, Mahima Chaudhry, Urmila Matondkar and Diya Mirza, Anupam seems fairly certain he can't go wrong.
Waheeda Rehman, the yesteryear star, dons the greasepaint after a hiatus of almost 10 years. She's only too thrilled to be back, "It seems as though it was only yesterday that I did Lamhe with Anupam and Anil. Today, I play his mother in Anupam's film," says the soft-spoken actress with a warm smile.
"Acting lures an artiste back to the arclights. After being in the limelight for so long it's like an addiction; you want to show your best and entertain people," muses Waheedaji.
The shooting was to take place in America. But producer Vashu Bhagnani later settled for a less expensive alternative.
Anupam looks every bit the director. His shaggy clothes and dishevelled appearance lend him that air as he barks orders.

He wants to get the lighting right for the shot which will have Waheedaji and Anil talk about Fardeen.
Anil Kapoor is already seated at the dining table, munching an apple. He's rehearsing, dialogue sheet in hand, while the makeup man wipes the sweat off his brow.
Anupam calls. Anil is ready. Waheedaji's hair needs to be tucked into place. "Why can't I have a few strands hanging on my face?" she asks, 'I'm a mother, aren't I?'
The rehearsal gets underway, but Anupam wants changes made. He's ready to shoot after another run through, just as the sun sets. They need the light.
After a quick touch-up, the actors deliver the shot with absolute perfection. Anupam, however, isn't satisfied; he wants another take.

Waheedaji must show concern and pat Anil's hand. But this time, she misses her cue, and Anupam is forced to cut.
They take a breather. Another take and the scene is finally canned. No glitches, this time.
Anil is thrilled to work with Waheedaji. "This is her first film after Lamhe and it's a great honour that she chose to do the role. She is a graceful, brilliant actress. Working with her is a pleasure."
Things couldn't be better between the star and director Anupam; they have always been great pals. "I always knew Anupam would be a competent director. I am 100 per cent sure he will make a great film."
India News Feature Service