Dr Rajiv Vijayakar

For over two decades, any film listing music composers Shanker-Jaikishan on its list of credits signified magic, success and excellence.

On September 12, 1971, Jaikishan, the gentler half of the duo passed away, following alcohol overdose.

Shanker followed years later in 1987. But the sudden slump in his career and musical standard after Jai's exit proved that though Shanker was the better trained. That it was Jai who was the instinctive genius whose flamboyance and variety -- along with his

uncanny proficiency at composing background music pieces without any timer -- had played as vital a role in the S-J saga as Shanker's famous proficiency over half a dozen instruments and his greater grounding in ragas, thaats and Western music.

To say that Shanker Jaikishan led and others followed would be an understatement. If Laxmikant Pyarelal emulated their dressing style, Kalyanji Anandji imitated their compositional style for the first five years. The Anu Maliks, Anand-Milinds and A R Rahmans of our times built a lot of their standing on 'adaptations' of S-J tunes.

Their reign was spent by the competition in trying to match them in popularity, range and excellence.

Rediff.com takes you through the highs and the lows of the spectacular careergraph of the duo:

1922: Shanker Singh Ram Singh Raghuvanshi is born in Punjab. His father moves to Andhra Pradesh where Shanker trains as a dancer and masters the tabla, pakhawaj and other instruments.

1929: Jaikishan Panchal is born in Bulsar, Gujarat, to the court musician of the Raja of Dharampur. Playing the harmonium is in his genes.

The Early Forties: Shanker travels to Bombay to join a dance troupe. He also joins the Prithvi Theatre as a tabla player. The handsome Jaikishan comes to Bombay to become a hero.

The two accidentally meet in a director's office and Shanker convinces Jai -- who works as a timekeeper in a downtown factory -- to take up a job at the theatre.

They move up quickly as orchestra musicians at Prithvi. They soon become chief assistants to in-house music maker Ram Ganguly when Raj Kapoor launches R K Films and Aag.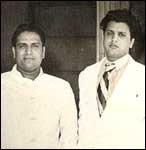 1948: Aag is released, and Vishwa Mehra, a close relative of Raj, informs the director of the duo's actual contribution.
Raj skips Ganguly and signs S-J for Barsaat.
1949: Barsaat storms in. Film music will never be the same again. For the first time, the record (pun intended) sales make HMV and the industry realise that film music can be a parallel industry.
Also for the first time, sad songs like Ab mera kaun sahara (Lata Mangeskhar) and Main zindagi mein har dam (Mohammad Rafi) brim with rhythm. Which, incidentally, is 'in' today.
Their uniquely novel cerebral orchestration marks the end of a monotonous music era. Lata Mangeshkar annihilates all competition and Mukesh stops sounding like a K L Saigal clone.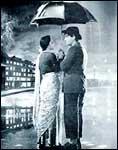 1951: Shanker-Jaikishan dazzle with Nagina and Awara. Awara boasts of the first ever dream sequence. Tere bina aag yeh chandni and Ghar aaya mera pardesi are musical milestones.
The title song becomes a cult number. It is a rage abroad, even in unlikely USSR.
1952: The duo is hailed as leaders. Every other composer has to match up... or fade away.
Daag, their first film with Dilip Kumar, proves to be a hit with Ae mere dil kahin aur chal. Poonam (with Lata singing all the eight solos) and Parbat are also released.
1953: Aah and Patita get the nation grooving. Aah flops but its songs (Raja ki aayegi baraat, Aaja re ab mera dil)are huge hits.
Patita (S-J's first film with the evergreen Dev Anand) boasts of Lata's Kisine apna banaake (reworked by Rajesh Roshan in Kishan Kanhaiya and Anand-Milind in Dhanwaan), Lata-Hemant's Yaad kiya dil ne and Talat Mehmood's Andhe jahaan ke.
By now, it's an open fact that S-J will work exclusively with Hasrat Jaipuri and Shailendra, but the lyricists are free to work with others.
1954: S-J strike their first dull patch, but Boot Polish has the classic Nanhe munhe bacche.
1955: Seema (Tu pyaar ka saagar hai) and Shree 420 with Mera joota hai Japani, Ramaiya vastaavaiya, Mud mud ke na dekh and Ichak daana (a trendsetting riddle number) reafffirm the S-J supremacy.
1956: With Basant Bahar, Chori Chori and New Delhi, the S-J rollercoster hurtles ahead.
Basant Bahar is a resounding answer to critics who felt that S-J couldn't handle classical compositions. Bhav bhanjana, Sur na saje and other such tunes prove that S-J (who replaced Naushad in this film on distributor demand) could go one better.
Chori Chori's score includes Yeh raat bheegi bheegi -- which Raamlaxman lifted in Anmol -- and Kishore Kumar's Nakhrewali in New Delhi, a Western experiment by the pair.
1957: The hit parade continues with Kathputhli, their solo release as Raj Kapoor takes a break from S-J, with Salil Choudhury composing for Jagte Raho.
1958-59: Yahudi's Yeh mera diwanapan hai, Mukesh's evergreen tune, earns Shailendra an award.
The musical success continues with Anari, Chhoti Bahen, Kanhaiya, Love Marriage, Shararat and Ujala. The last marked the beginning of the legendary Shammi-S-J team, minus Rafi.
However, they do get Rafi to sing for Kishore Kumar in Shararat.
1960: The prolific duo score for College Girl (their first non-Shailendra-Hasrat film, a flop), Dil Apna Aur Preet Parai and the classic Jis Desh Mein Ganga Behti Hai.
The music creates history with all-timers like Aa ab laut chalen, O basanti and Mera naam Raju. This is S-J at their peak.
1961: Redefining the meaning of versatility, S-J score blockbusters like Aas Ka Panchhi, Jab Pyar Kisise Hota Hai, Junglee and Sasural.
Candyfloss entertainers are 'in', thanks to the arrival of colour -- S-J lead the way in a quicksilver change of musical form.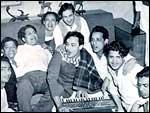 1962: Asli Naqli, Aashiq, Dil Tera Diwana, Hariyali Aur Rasta, Professor -- all S-J films are hits. Critics scoff at their 'trivial' music, but the box office and record shops tell a different story.

1963: Dil Ek Mandir cements their bond with hero Rajendra Kumar (after Sasural and Aas Ka Panchhi). The titletrack of Hamrahi is a chartbuster, too.

1964: Sangam, Beti Bete, April Fool, Ayee Milan Ki Bela, Rajkumar, Zindagi -- the hits roll out.

Discerning observers discover a certain jaded note in many of their songs. For instance, all Rafi numbers sound the same, whether for Rajendra Kumar, Biswajeet or Shammi Kapoor.

The orchestration begins to sound a shade raucous. O P Nayyar is a threat on the horizon; Roshan and the fledgling Laxmikant Pyarelal have shown that deep melody can have buyers, too.

Sharda comes into Shanker's life and things are not the same. Raj Kapoor and Lata Mangeshkar disagree over Main kaa karoon Ram, Hindi cinema's first significant double entendre song.

1965: Shanker and Jaikishan split.

When Jaikishan charges a hefty Rs five lakh to score songs for Arzoo, Shanker retaliates by composing the experimental mujra-meets-Western, Jab ishq kahin, for the same film, charging the same amount.

Arzoo and Janwar

(Lal chhadi, Meri mohabbat jawaan rahegi) are hits. But from now on, the two work separately, even while working in the same film.

1966: Amrapali's ethnic melodies (Tumhein yaad karte karte, Jao re jogi), Love In Tokyo and Suraj (introducing Sharda in the raging hit, Titli udi) and Teesri Kasam prove that they haven't lost their creativity.

Shanker even ghost composes Street Singer under the name of Suraj.

But their lucky phase has past.

1967: Laxmikant-Pyarelal and R D Burman storm in with a dozen superb musicals. S-J banners start falling like ninepins to the L-P juggernaut. R D Burman shows an understanding of Shammi Kapoor's exacting and unique musical grammar.

Raj Kapoor-S-J's 70mm epic Around The World capsizes.

1968-1970: A desperate duo, stubbornly refusing to forget differences, desperately sign a multitude of films to keep pace with L-P's persistent and prolific onslaught.

Kalyanji Anandji consolidate their newfound individuality with Upkar and Saraswatichandra.

An Evening In Paris, Brahmachari, Diwana, Raat Aur Din, Mera Naam Joker, Mere Huzoor, Jhuk Gaya Aasmaan and Shikar still witness S-J's talent. But the chartbusting scores are surrounded by mediocre work where even the few hits sound stale and jaded.

Jaikishan's health begins to fail.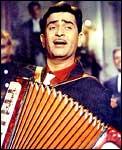 1971: On the heels of the cult success of his solo creations Zindagi ek safar hai suhana (Andaz) and Jeena yahaan marna yahaan (Mera Naam Joker), Jaikishan passes away.
1972-1975: Shanker proves his point with the odd Lal Patthar and Sanyasi. He makes up with Lata.
But it's too late -- Raj Kapoor has signed L-P and R D Burman and the former have engineered a Lata-R K truce. Bobby is an unprecented sensation; Shanker's hopes of going back to R K are dashed.
1976-1987: Shanker's career goes downhill. Loyalist Sohanlal Kanwar, who has been with him since 1970, leaves him.
Unsung, Shanker dies, after turnips like Atmaram, Garam Khoon and Naari, though he tries out fresh voices like Anuradha Paudwal, Alka Yagnik, Suresh Wadkar and Mohammed Aziz.
An era is over.