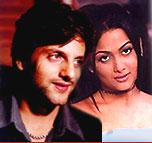 A huge crowd waits anxiously at the Hiranandani Gardens, Bombay.

As a car approaches, their anxiety turns to excitement.

Fardeen Khan emerges from his car. He's here for Mehul Kumar's Kitne Door Kitne Paas.

Fardeen's bodyguard stops a group of girls from getting too close to the star. But the actor instructs him to let them through. He poses with all of them and smiles at every compliment.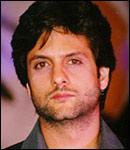 With Pyaar Tune Kya Kiya and Love Ke Liye Kuch Bhi Karega to his credit, Fardeen has tasted success.
After signing autographs, it's time for work.
The scene requires him to drive a car with co-star, Amrita Arora. Wearing a shocking red skirt and top, with a black jacket, she looks stunning.
Director Mehul Kumar, known for patriotic films like Krantiveer, is experimenting here.
"With almost everyone making the same kind of film, I wanted to deviate from the subject. And KDKP has been a therapeutic experience," he says.
The director is all praise for Fardeen. "He is hardworking. I don't have to tell him much -- he's a natural actor. Fardeen will go far."
Kumar reveals that KDKP will have all the required masala.
"I've enjoyed making the film though there were a few problems kick-starting it. Years of experience have taught me not to be bogged down by anything."
Not even by Fardeen's arrest?
"What can I say about it," he replies coolly. "That's behind us now. We should all learn a lesson from it. As for Fardeen, I have never had any problem with him. So why should I start worrying now?"
They're ready to shoot. Three cameras will be rolling simultaneously to capture the shot in one go.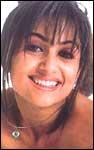 Amrita waits on the road. Fardeen zips past, but stops on cue, to give Amrita a lift.
The shot is canned.
Close-ups follow after a touch-up.
Fardeen and Amrita look comfortable together. After three takes, it's time for a break.
Amrita is thrilled about her debut. "It gives me lot of scope to perform. And having a co-star like Fardeen is great!"
Fardeen says, "Mehulji is an amazing director. He gives me complete freedom. And it's really important for an actor to be let loose at times. I love the way the film's shaped up. It's been quite exciting and I hope the audiences feel the same."
India News Feature Service