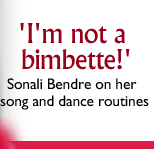 She sizzles onscreen dancing to beats of Mujhe saajan ke ghar jaana hai in Rajkumar Santoshi's magnum opus Lajja.

But, Sonali Bendre is in no hurry to get to her saajan ka ghar.
"I'm not getting married", she insists.
Rohini Iyer finds out more:
What's your reaction to the stories of your engagement?
I've never hidden my relationship with Goldie Behl.
I am dating him. If we get engaged tomorrow, I have no qualms about telling the world. But I'm not. I can't see why people jump to conclusions.
The other day, I heard that the rumours began after a few people saw me visit his family.
I've known Goldie's family for over six years now, ever since I acted in Angaarey, which they produced. I was close to them even before I began dating Goldie.
His sister Nanu (Shrishti Behl) and his mother are close friends.
I used to drop in to meet them earlier too. Now that I'm dating him, everyone wants to marry us off.
Will you? The grapevine is abuzz with the wedding rumours.
*Sigh* For the last time, I'm not engaged to Goldie. I'm not getting married to him.
I'm not the kind to hide my marriage or my relationship. I think it's disrespectful. I'm seeing Goldie and we are very happy together. But that's it. Marriage is another issue.
We're both young; what's the hurry?
Professionally, things are looking up for me. There's so much to do. I have a good career going. Why should I give it up?
Point noted. Your song in Lajja is creating quite a storm.
*Smiles* It's a very sweet song.
When Rajji (Rajkumar Santoshi) asked me to do a special appearance song in Lajja, I simply had to.
It feels good to be part of a woman-oriented film like Lajja.
You sound like a feminist at heart.
I am. Not the hard-core feminist variety but I do have very strong opinions on women oriented issues.
Do you think the heroes always get the better deal in Hindi films?
You mean better money? Better roles? That doesn't really bother me. I don't really care as long as I get good roles.
Looking back, what do you think of the song and dance roles you have done?
I do admit I did my share of running around the trees. I played a bimbette in Sarfarosh.
It takes a lot of intelligence to play a bimbette. And I'm not a bimbette!
But I managed pretty well, don't you think?
Stardom for me hasn't been a cakewalk. It's been a struggle. But I'm getting meaty roles today. No complaints!
Professionally, what are you looking forward to?
I am doing Mahesh Manjrekar's Tera Mera Saath Rahen with Ajay Devgan. It's a sensitive film that deals with Ajay's love for his spastic brother.
Then there's Pyaar Kiya Nahin Jaata where I'm paired with newcomers. It is a typical Mills and Boons romance. Mahesh (Manjrekar) will direct this one too.
Milan Luthria's Chori Chori with Ajay (Devgan) and Rani (Mukherji) is very interesting.
There's another untitled project I'm working on. Of course, there's Kya Masti Kya Dhoom.
Is hosting a talent-hunt show fun?
It sure is -- especially with all those kids. Their energy, their enthusiasm is contagious. It feels good to be part of a talent hunt show.
I was excited when I first got the offer. And it was perfect because they only wanted me to work six days a month. I couldn't have spared more time. My plate's more than full with the five films on hand.
Do tell us what you think of this interview