'I see no competition from Asoka'
Bharati Dubey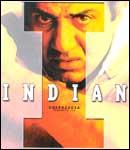 After his previous blockbuster Gadar - Ek Prem Katha, Sunny Deol is back with Indian.
This is his second home production after Dillagi, which bombed at the box office.
"Indian is a remake of the Tamil hit Vallarasu. I don't usually do remakes, but I simply loved the Tamil film. So I did it," says Sunny.
"We have not made any drastic changes in the script, except for the nativity which has been changed to suit the northern audience," says the actor, who in the wake of his rediscovered popularity recently endorsed the Lux range of undergarments.
Indian has opened to an overwhelming response in Bengal, where it was released prior to its entry in the rest of the country. "The Durga Festival is on in Bengal and people are on holiday. My distributor requested that I release the film a little in advance over there. I agreed," Sunny explains.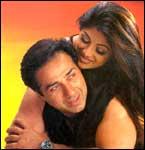 The producer-star sees no competition in Shah Rukh Khan's Asoka, which releases on the same day as Indian. "I have my fan following and Shah Rukh has his. I see no competition from Asoka. Besides, there are a number of films that have been released together," he justifies.
He is content to let direction take the back seat. "I want to focus on my acting career and complete all my films. Direction takes up a lot of your time -- but one day, I will definitely direct a film."
For now, he is busy with the shoot for his next film, Gandhi. "It is not a patriotic film, but more of a family film. We are also working on the research of Bhagat Singh, in which Bobby will be playing the lead role. If I find a suitable role for myself, I will also act in it. Both the films are directed by Guddu Dhanoa."
Referring to the patriotic bent of recent and upcoming outings like Gadar, Indian, Gandhi, Bhagat Singh et al, Sunny says, "More and more such patriotic films must be made. Only then will there be a greater awareness among people."