Will Cops Prevail Over Bandits?
Arthur J. Pais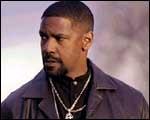 The huge haul taken by the gritty cop drama, Training Day is the career best for Denzel Washington. The film has heisted about $24.2 million in three days while his previous big hit Remember TheTitans had opened with a solid $21 million weekend last September.
But the big question next week is whether Washington will be able to fend off a challenge from Bandits, the Bruce Willis comic caper co-produced by Ashok Amritraj and directed by Oscar winner Barry Levinson.
If Training Day loses about 30 per cent of its box office, as is the custom for many successful films, it could be on its way to a solid $80 million. If it shows sturdier legs, like Remember The Titans did, it could even reach the $100 million mark. Titans ended its American run with about $115 million. Titans was an inspirational drama whereas Training Day is a downbeat film which is nevertheless riveting and has the most muscular performance by Washington. The actor, who won an Oscar in a supporting role in Glory in 1989 is expected to cop a nomination for Training Day.
If Bandits enjoys a strong run, it will mark reversal of fortunes not only for Levinson (Rainman) who hasn't had a hit since the 1994 thriller, Disclosure but also for Amritraj, whose 2001 movies - Anti-Trust, Original Sin and What's The Worse That Could Happen? -- have had cold reception at the box office.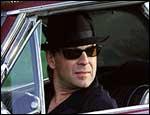 Training Day which premiered at the Toronto International Film Festival last month, was followed by another Toronto-premiered film, Serendipity which performed far better than expectations, grossing $14 million. Made for about $20 million - nearly one third of the budget for Training Day - the romantic comedy, Serendipity received mixed to negative reviews.
John Cusack and Kate Beckinsale play flirtatious strangers who surrender to fate in deciding if they should be seek lifelong partnership. The film, shot in New York, had its release postponed by two weeks because distributor Miramax wasn't sure if the audiences will embrace a love story set in an Manhattan that had just been devastated by September 11 terrorist attacks.
Warner Bros had also postponed the release of Training Day, wondering if the police drama, in which the lead cop was shown as a morally wanting character, would appeal to mainstream America at a time the country was celebrating heroes, including the firefighters, who perished while trying to save people at the World Trade Center.
But the audiences, including over 51 per cent of women, according to Warner Bros, gave Training Day, the kind of opening few films receive in October, one of the slower months for films in America. Last year, the Robert De Niro comedy Meet The Parents opened at the top with $28.6 million in October.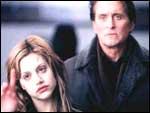 Hollywood and theater owners who might have wondered how the box office would hold in a climate of uncertainty and engagement in a distant war, the success of two vastly different new films confirms that movies hold a powerful sway over the audiences in happy and difficult times.
Just as Training Day and Serendipity brought in big hauls, last week's top two films, Don't Say A Word, a suspense film, and Zoolander a comedy by Ben Stiller continued to perform well.
In Don't Say A Word Michael Douglas plays a psychiatrist who must rescue his daughter from kidnappers; it psyched $10.0 million, taking its 10-day gross to $32.2 million. Expected to be a midrange hit ($55-$60 million) in America, the film could be a bigger success abroad, given Douglas's popularity in Europe and South America.
Zoolander which was no 2 last week, grossed about with $9.9 million, earning $28 million.
But it was not all great news for Warner. Its Hearts in Atlantis, the Anthony Hopkins psychological drama based on Stephen King's stories, isn't wooing too many people. Its $5.4 million gross could eventually give it about $30 million.
While Training Day hogged the limelight, the sleeper hit of the season, The Others, the mesmerising parapsychological drama with a whooping surprise ending, is heading for $100 million run in North America. With $3 million grossed this weekend and $90 million gross, the Nicole Kidman starrer has surprised many people in the film industry with its lasting appeal.
The film, set for most part in a haunted mansion, was directed by Spanish filmmaker Alejandro Amenabar. It was produced by actor Tom Cruise. By the time it was released, his marriage to Kidman had ended. The film, undoubtedly, has the strongest performance by her. It is also her biggest hit, and amidst Oscar nominations buzz, she has proved that she could carry a film on her own.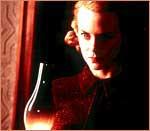 Even with solid reviews and an good opening, the film was initially expected to end its run with about $60 million. But distributor Dimension (a wing of Miramax) was surprised by the overwhelming repeat business for the film. The film is proving to be a hit in Europe too, though it is playing in just a handful of countries there. It has grossed about $16 million in Spain, and it is a crowdpleaser in Italy too.