Shobha Warrier
In 1997, director Priyadarshan told me he wanted to make a film that would make his children proud of him. He wanted them to say, "My dad made this film."
Today, he admits rather ruefully that he hasn't succeeded.
But the two films that he is working on might change that.

The first has Priyadarshan extremely excited. His dream project, it is a Tamil film on the weavers of Kancheepuram. He wants to make the film solely to satisfy the creative filmmaker within. He was compelled to make the film in Tamil as the weaving community is based in Tamil Nadu.
No big stars in this film because Priyadarshan wants to keep it authentic. The film was conceived a while ago, but the filmmaker never got down to making it as he was more involved with his other commercial projects.
Priyadarshan's second film will be in English, based on the life of an Indian revolutionary who died young, titled The Last Revolutionary. It is based on compatriot Chandrasekhar Azad. And where there is Chandrasekhar Azad, there must be Bhagat Singh. Priyadarshan's film hopes to provide an insight to their tumultuous lives and ideologies.
As a young boy, Azad vowed that he would fight the British forces and swore they would never catch him alive. On February 27, 1931, when he was rounded up by British forces at Alfred Park, Allahabad, he realised it would not be possible for him to escape. So he shot himself with his pistol and never broke his word.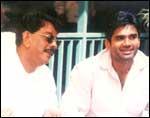 A life like his with all its drama, violence, emotion and passion found no takers in Indian cinema, till Priyadarshan came along. Although Priyadarshan's film went public last month, he is tightlipped about it. As the contracts have not yet been signed, all the ambitious director says is The Last Revolutionary is the most exciting project of his career.
"I am a greedy filmmaker. And this film will be a major stepping stone in my career. It may take a year to complete the scripting and begin shooting. I'm not supposed to talk about the film, as we haven't signed the contract yet. But I am reading a lot of material on Azad and the period," he says.
Kaalapani, made simultaneously in Malayalam and Tamil, starring Mohanlal and Prabhu, as the inmates of the jail in the Andamans, was one of the most significant projects in Priyadarshan's career. Even in the 1990s, making such a high-budgeted film in Malayalam was risky, but friend Mohanlal came forward to produce it. Though the film was not a box office hit, it did not deter Priyadarshan.

He moved on from Malayalam films to Hindi. His latest, Yeh Teraa Ghar Yeh Meraa Ghar will release soon. And if all goes well, his English film will also woo the world.
Art director Sabu Cyril, who found fame with Kaalapani, will collaborate with Priyadarshan yet again for The Last Revolutionary.
The film will be produced by Sony Classics and Ripples Picture Entertainment. Ripples Entertainment also produces Priyadarshan's Yeh Teraa Ghar Yeh Meraa Ghar.
Although casting director Madhur Jaffrey has not finalised the cast, it is said that Abhishek Bachchan will be Priyadarshan's 'last revolutionary' Chandrasekhar Azad.