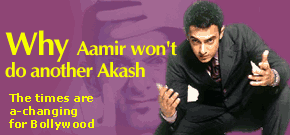 Vivek Fernandes
Itís a brave, bold, new world for Bollywood. And we mean that literally. The past couple of months have been witness to the sharp shift in Hindi cinemaís focus towards the youth.
Youth -- the five letter word has fast become the mantra of every director, producer and distributor. Yuppie themes are the order of the day. And to stay in the game, youíve got to get jiggy with it.
Bollywood has reinvented that winning formula, yet again. All you need today for the moolah to keep pouring in is a film thatís fresh, frothy and trendy. Itís got to be cool, hip and happening -- for those are the buzzwords the industry swears, nay, lives by.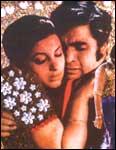 "Phooey!" you remark, "whatís new about that? Youth-based films have always been the trademark of Hindi cinema. From Bobby and QSQT to Joh Jeeta Woh Hi Sikander, Maine Pyar Kiya and Khiladi. Didnít they all deal with young protagonists?"
Yes, they did. But the youth films of today, unlike those, which were made a decade ago, arenít just romances, they are statements in themselves and they seek to address other issues, not only hackneyed infatuation.
The changes the industry has witnessed over the past few years mark the Second Coming of the ĎYoungí flick. Wedding romances a la Barjatya and Chopra and action thrillers have taken the backseat.
It all began with Karan Joharís Kuch Kuch Hota Hai, which was truly a trendy teenybopper flick. But with films like Kya Kehna (which dealt with teen pregnancies), Josh (the West Side Story remake), Pyar Main Kabhi Kabhi, Dil Hi Dil Mein (the You've Got Mail remake), Dillagi, Pyar Kiya Toh Darna Kya, Kaho NaaÖ Pyaar Hai and Mohabbatein which followed, a pattern emerged.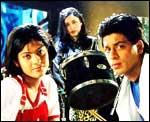 Yesteryear star Rishi Kapoor who turned director with Aa Ab Laaut Chalen in an earlier interview said that filmgoers were fed up of seeing cars blow up all the time. In his opinion the audience didn't want anything serious or preachy. All they wanted was good popcorn and a good time.
Take the past six months as a case in point. A majority of films released in these months had youth based themes.
Tusshar Kapoorís launch vehicle Mujhe Kucch Kehna Hai was based on on-campus romance.
Goldie Bhelís Bus Itna Sa Khwaab Hai (with Abhishek Bachchan in the lead) told the story of Sooraj, a small town college kid who dreams of making it big.
Rajiv Raiís Pyaar Ishq Aur Mohabbat had Kirti Reddy pursuing further studies and Aftab Shivadasani pursuing Kirti in Scotland.
While Farhan Akhtarís Dil Chahta Hai, with Aamir, Akshaye and Saif at helm, took a closer look at friendship in the 21st century.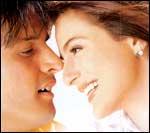 The next couple of months are choc-o-block with films that 'celebrate the essence of being young' -- N Chandra's Style (shot entirely on campus), the Vashu Bhagnani produced Rehnaa Hai Terre Dil Mein, Tanuja Chandra's Yeh Zindagi Ka Safar (with Amisha Patel playing pop-star), Esha Deol's lauchpad Koi Mere Dil Se Pooche and Anurag Kashyap's Paanch.
The deliberate choices by filmmakers, and noted ones at that, to address youth relevant issues mirrors the changing sensibilities and the changing demographics of the audiences. Veteran distributor Ramesh Sippy estimates that today almost 60 per cent of the audience are youngsters (between the ages of 14 and 25) compared to 30 per cent 10 years ago.
What's more significant is that it's not just the subjects that have undergone transformation; today the film's production design, the costume design, it's music, the texture and feel all contribute to its success.
Shankar, Loy and Ehsaan, the music directors of DCH and the soon to be released Kamal Haasan-Raveena-Manisha starrer Abhay make it a point to see that their tunes are in keeping with the subject of the film.
"Our music is more cinematic, it has to fit in with the narrative. We compose songs which fit in with the entire feel of the film as opposed to doing so called 'item' songs where the hero goes to a nightclub and falls in love with a girl or suddenly gets 'beamed' to Switzerland for a ballad," says Ehsaan.
Avan Contractor who worked on DCH too as the film's stylist said that she was prompted to give the leads 'a very current look' after she read the script.
"I didnít want Aamir to look like the same guy from QSQT or Saif's look to be similar to his earlier films. Although I did have some references, I was never inspired by any Hollywood films. Their characters had a very modern, very now feel to them," she said.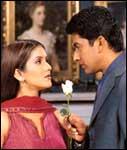 Actor-turned-director Saurabh Shukla says that making youth films "doesn't always mean making films full of colour or frames filled with fresh faces, young voices and loud music. Youth also means being scared, being happy and being horny -- all at the same time."
The acceptance of the belief that 'The Teen is King' also signifies the acceptance of breaking the moulds, of shedding stereotypes. And that translated into Hindi film jargon means that Aamir would never be able to do DCH's Aakash ever again. And that Hrithik would have to put his KNPH Rohit-Raj act to bed. For good.
And if Shah Rukh Khan knows what's good for him, he'll never do another Rahul(KKHH) or for that matter, another Asoka ever again.