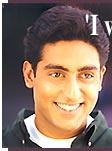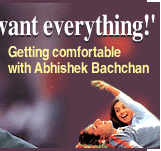 Abhishek Bachchan has an opinion on everything.

Which is not necessarily surprising, considering his statement: "It's tough for me to keep my mouth shut."
And he goes on to expound on the said mouth. On the sets of

Bas Itna Sa Khwab Hai, the actor is busy playing pranks on his screen mother, Smita Jaykar. He says, with a mischievous twinkle in his eye, "I don't have sweet tooth like my father. I have a sweet mouth."

Not always, though. The actor also calls in a spade a spade. "I don't think there is anything wrong with being economically aware and being money-minded."

He isn't exactly Mr Personality, when you consider his recent brush with the media. Turn the conversation towards films spurring on violence, and he quips, "You can't blame cinema for the violence increase in real life. Did you know that Bihar, which reports maximum violence, has the least number of theatres in the country?"

As far as his career goes, Abhishek has Bas Itna Sa Khwab Hai and Shararat lined up for release this year, along with Dharmesh Darshan's film, a love triangle.

He now has directors like Priyadarshan, Sooraj Barjatya and Dharmesh Darshan working with him. He loves every minute of it, he tells Nidhi Taparia:
Does the constant media intrusion in your life bother you?
Who says the media intrudes into my life? I don't let them.
Sure, I am an actor -- a public figure. But what I do behind closed doors is my life.
They are doing their work -- writing about me. I am doing mine -- acting. Both of us are professionals. They don't know what's happening in my life.
And the day I let them bother me will be the day they win!
What is the difference between Abhishek today and the Abhishek who walked into the industry a year-and-a-half ago?
I think my comfort levels with the film industry has increased. I am comfortable here.
But Abhishek, the Boston student and Abhishek, the actor are still very much the same people.
Have you become more diplomatic?
I don't think so. Yes, my approach towards the industry and the way I work has changed. And I think I've got the hang of it now. I know am more aware of whether I am doing things right or wrong. For example, romantic scenes. I'm still trying to get a hold of them.
Otherwise, I'm enjoying everything I'm doing.
Has the transition been in any way painful for you?
Not at all. It has been a learning experience. One way or another, you cherish it. That's the way life is. And I'm enjoying mine.
So what do you want now?
Everything.
Everything?
Everything. Like the line in Bas Itna Sa Khwab Hai, "All I want is everything."
I totally identify with that.
But isn't there a price attached to this everything?
Sure there is. Nothing comes for free. I am paying the price for it in my own way.
What is the difference between working with new directors like Goldie Behl and Rohan Sippy and experienced ones like Sooraj Barjatya, Priyadarshan and Dharmesh Darshan?
New directors bring in new actors. We are mere puppets in their hands. But it's great fun working with friends like Goldie and Rohan.
During the first schedule of Bas Itna Sa Khwab Hai, Goldie came to the airport to pick me up. We were silent in the car on our way because we were both so nervous -- it was the first film we were working in together. Then we looked at each other. And burst out laughing.
But every director is different. Dharmesh Darshan has a different way of looking at films than Soorajji (though I haven't started shooting with Soorajji).
The new lot is inexperienced, and perhaps need to work on technique. Else, they are just as savvy and capable as the established lot.
What gives you sleepless nights?
Tough scenes. They play on my mind all night.
In a recent interview, you said that an actor should be spontaneous. Do you rehearse a lot?
Yes. Every actor has to be prepared. Just because I say I like rough edges doesn't mean I don't want to smoothen them. I prefer being spontaneous, yes. But it doesn't mean I will not rehearse.
What do you do on a Friday, when one of your films is releasing?
I get very nervous. I am a complete wreck and my mind goes blank. But I like going to watch the first day first show of my films in a theatre along with the audience. That can be a humbling experience. It can also be a very harsh one.
Their comments are, however, very important for me as an actor.
Does the criticism get to you? Or have you developed a thick skin?
Sure I feel bad. But I accept it. It's their viewpoint. More important, I accept it constructively.
I love my work. Call me a stiff actor or whatever, but if I can make one person smile, I've done my job.
I can only keep trying different things. It's not easy to entertain the audience today. They are a very discerning lot now, with so many distractions -- movies on TV, soaps like Kyunki Saas Bhi Kabhi Bahu Thi, not to forget KBC.
What do you think of KBC?
I have my own theory for the success of KBC. You see, for the first time, the Indian audience encountered Amitabh Bachchan, the person. Not the star. Not Vijay, not Shahenshah. Just Amitabh Bachchan.
And they loved him.
Have you watched your mother perform on stage?
I have seen Ma Retire Hoti Hai and Dr Mukta. I like the first. The second has a depressing note. What I like most is the simplicity of her acting.
What does praise from your parents mean to you?
It means the world to me, like it would to any child. Any reaction is welcome; I treasure their opinions. But frankly, they are very indulgent. Likewise with Shweta. She loves my films and me. Unconditionally.
How do your parents react to the criticism levelled at you? Especially your mother, with whom you are so close to. Does it make her more protective?
I think the fact that they are both actors helps. Both of them know how important the criticism is for an actor. Besides, they don't take it personally or get upset about it when there is a bad review. They take it pretty well and are very encouraging.
As a child did you ever confuse Amitabh, the father and Amitabh, the actor?
When I was younger, I used to watch only my father's films. I can count on my fingers the number of films that I watched which starred actors other than my dad.
I didn't watch my mother's films at all because they made me cry. She is a great actress; she has essayed some very meaningful roles. I appreciate it now. At the time, I thought they were depressing.
But I have never confused the father with the actor. We did go for their shootings, but we knew it was work -- a make-believe world.
To their credit, my parents never carried work home. My dad, for example, never came home with his makeup on. So it didn't make a difference to me as as a child.
My parents were there for every PTA meeting, for every event, even if I was just a daffodil on stage. They spent every minute with us when they were not shooting. That was quality time.
Though once, I was watching one of my father's films. I don't remember which scene it was -- but Amjad Khan was punching him. The next day, I happened to be on the sets for a fight sequence between my dad and him. Angrily, I went up to him and said, "How dare you beat up my father?"
Do you wonder how you will work with your parents? They say that when Amitabh Bachchan comes on the sets, there is absolute silence.
Only till he cracks a joke and everybody laughs. But yes, I do worry about facing the camera with them. Gives me sleepless nights! *shakes his head and smiles*
But the fact that I am their son -- and thus have to be a good actor -- does not worry me. I wouldn't be able to work if it did.
It takes a lot of will to shut that out. But I am very strong-willed!
Would it mean work would then move on to your dining table?
When that happens, it would be interesting. I am looking forward to discussing with them. Though after a tiring day, we would need some space to recuperate before we talked about scenes. But it would be exciting nonetheless!
What do you do in your free time? Do you have any? Do you, like your parents' generation, spend time after a day on the sets, watching films or discussing cinema?
My parents have always had interests other than films. I don't think their generation talked only about cinema. It's the same with us.
The only difference is that they brought a lot of life experiences to cinema. We watch a lot of films; and are influenced by them in the way we act or direct our films.
But on the whole, we are more aware about life just than cinema.
And yes, I do manage to get time off for myself. Actors are expected to act 24 hours a day. But they don't have to if they don't want to. I don't have to do it. So I take time off to spend time with my family, my sister, my niece and nephew.
I enjoy being at home watching the television. There are days when we often don't see each other for three-four days despite living in the same house because of our pressured lifestyles, I make sure that we have atleast one meal together
Do you think that your generation cannot compare with gifted actors like your mother or Sanjeev Kumar?
With due respect to all of them, I think my generation has not been given the chance to essay such roles. It does not mean we are not capable or we are less qualified to do so. As someone responsible for taking the next generation of cinema, I hope that tommorow your grand children can sit across mine and say, "Your father Abhishek, (hopefully!) or Kareena were such great actors!"
All I am saying is that don't be in such a hurry to write us off. Sure, we have wooden faces and we use only fist cuffs which we use all the time, but keep your encouragement going, We are quite messed up in our own way, you know!