"Paagalpan might be this year's biggest blockbuster!"

Pompous? You would think so, right? What if the statement were just interpreted as a calm, strong belief in oneself?

What if it comes from Young Turk film-maker

Joy Augustine, who would rather let his film do all the talking than discuss his film to death?
Because here is a director who is not afraid of taking risks.

His first film,

Tere Mere Sapne, had an all-new star cast of Chandrachur Singh, Arshad Warsi, Priya Gill and Simran. The film did well at the BO.

For his next venture,

Paagalpan, you would expect him to go for an established star cast, right?

Wrong. Not only is his star cast -- Karan Nath and Aarti -- new, his crew is, too.

Priyanka Bhattacharya met the director to learn more about the film:
What is Paagalpan about?
Paagalpan is a young romantic musical. It's a simple love story. Boy meets girl, problems arise, how they solve the problem, a major crisis then occurs... and finally the climax.
I've heard the film is on the lines of Romeo And Juliet...?
Yes, Romeo And Juliet is the inspiration for Paagalpan.
Now you'll ask if the climax is similar. To which I'll say that I won't disclose that!
All I will say is it's an entertainer. The aim of the film is to entertain. It is a feel-good film with good music, nice locations, decent-looking people, nice performances and a strong screenplay.
Your previous film, Tere Mere Sapne, starred only newcomers. Paagalpan introduces two new faces. Is this deliberate or did it just happen?
You see, everyone in the film is new. I have a new music director, art director, costume designer and cinematographer. Except a few artistes who have done television and theatre, the others are new.
I decided I needed people who will give me time and be involved creatively in the film. Not just physically. You know like a music director who says he's busy today. Come back two days later for a sitting.
I wanted my entire unit to live the film, feel it, share the same vision that I had in mind.
Isn't it a risk working with only newcomers? Experience counts, doesn't it?
I have this philosophy: Work with the best or work with the to-be-best. I think the people with whom I've worked in Paagalpan are going to be the best. They have done a brilliant job.
Anyone would find it difficult to believe they are first-timers.
Another very important reason I chose new people is that the most important thing for a love story is it should seem like a true story. For that, it is important to have faces with no images… which mean you have to take new people.
In the history of cinema, it's always new faces that have made the best love stories.
That's why I've opted for new faces.
How did you finally choose Karan and Aarti?
I had auditioned at least 2,000 people before choosing Karan and Aarti.
It wasn't difficult casting the male lead because I had four options. But Karan happened to be the best (and he's just brilliant in the film).
But I had a tough time with the female lead -- I met so many beautiful girls. All of them talented.
My biggest problem was they were all so confident. These days, girls talk to you bang on about any topic under the sun. Now that's a good thing. But it didn't suit my characterisation.
The most important quality I needed for my character in Paagalpan was vulnerability. I needed a girl who looked as if she needed help.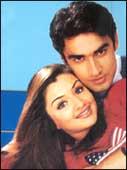 I had pared it down to four girls when I chanced upon Aarti's photos via e-mail. She is from New Jersey, USA, and was just 15 at the time. She is 16 now. I spoke to her parents and I think I made the perfect choice.
But didn't her accent pose a problem?
She did have a very strong accent. But all credit to her parents, who kept their native Gujarati alive all the way away in New Jersey. Anyway, we had to dub Aarti's voice in the film.
Are you happy with the way the film has shaped up?
Absolutely. We have stuck to the script we started off with.
There's not a single person in the film who, having worked in it, will say, 'I was told do this but this is what has happened'.
What about the songs? How important are they to Paagalpan?
I'm sure every director says he has worked on the songs after the script and all.
It is very true in my case. We worked on the songs after the script was made. What's more, they are part of the screenplay. So if you miss a song, you miss part of the narrative.
There is one totally commercial song you can call an item number. But then again, there is a reason why it features in the film.
Which is your favourite scene in the film?
I am a very possessive man and love the entire film from the first frame to the last. I can't even pick one single song I like the most. I just love everything about the film.
How do you rate Paagalpan with your previous film Tere Mere Sapne?
Paagalpan is exactly as I envisioned it in the script. Every scene speaks for itself.

In Tere Mere Sapne there were scenes where I felt I was a bad director and I could have done better.
Now that the film is complete, what do you expect?
I'm very confident. It has been made exactly the way I wanted. There is not a single shot which I'd be embarrassed to show people. It might be the biggest blockbuster this year.
It will be remembered long afterward. I want it to be remembered as one of the best love stories told. I would be depressed if it does any worse.
What next?
Right now, I've got 15 scripts to choose from. After Paagalpan, I'll take a one-month long holiday and then start auditioning for new faces again.
I'm doing a film for Mukta Arts and one more for HMV.