Sly's rat race metaphor
Amar Parikh
The cardinal sin for any reviewer is to prejudge a film.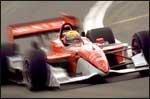 Frankly, that is exactly what I did with Driven. I had it pegged as a disaster. And it easily beat my already low expectations by a wide racetrack mile.
So go ahead. Add another certainty to the troika of life, death and taxes: lame Sylvester Stallone films.
Stallone, who wrote some of the Rambo and Rocky films, is credited with the screenplay here.
But Driven, set in the world of auto racing, is no Rocky or Rambo. It's not even Rocky V.
Racing team owner Carl Henry (Burt Reynolds) has a potential winner in up-and-coming driving sensation Jimmy Bly (Kip Pardue). But in the middle of his breakthrough season, Jimmy is wilting under the dual pressures of competing with established champ Beau Brandenburg (Til Schweiger) for titles and for the affections of Sophie (model-turned-actress Estella Warren).
Enter Joe Tanto (Stallone, droopy-eyed than ever), pulled out of retirement by the wheelchair-bound, cold-hearted Carl to mentor young Jimmy.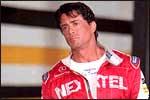 Joe is the Rodney Dangerfield of the racing world -- he gets no respect from anyone, including his ex-wife Kathy (Gina Gershon, an instant frontrunner for the worst catty performance of the year).
In a world where he's not really welcome, Joe goes around, Yoda-like, dispensing advice.
Nothing wrong with that. Except, if you'll remember, Sly is responsible for every word.
So how bad can the dialogue be, you ask?
Well, here's an exchange: "Joe, how do I get her (the girlfriend) back?"
"If I were you, I'd crawl."
"You? You never crawl!"
Yeah, it's that bad.
Driven attempts to pander to as wide an audience as possible. Take the noisy soundtrack, which ranges from pounding hip-rock to attract the younger viewers to country songs catering to racing's core constituents -- middleclass white Americans.
Or the shots of skimpily-clad women in the stands before every racing scene.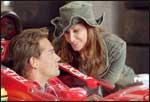 Director Renny Harlin (Cliffhanger), whom I wouldn't trust to helm a kindergarten play after this car-wreck, takes a cliché-ridden script and drives it to the ground.
In a film chock full of ludicrous scenes, the one that takes the cake is where Joe chases after a distraught Jimmy, both recklessly speeding around downtown Chicago in their racecars at 195 mph -- without causing any loss of life or property.
Joe finally manages to subdue Jimmy and right on the sidewalk, gives him a poorly written, but very effective, attitude-altering pep talk.
As my ex-girlfriend would have said, "Whatever."
Even the guilty pleasures of the inevitable, over-the-top car crashes are ruined by the amateurish special effects.
As for the acting, it is consistently dreadful, but watching the actors out-ham each other does provide some entertainment. Special honours go to the musclebound actor playing Latin driver Memo Moreno (is that a
filmi name or what?). He sounds like a cross between Arnold Schwarzenegger and Jean-Claude Van Damme. And, incredibly, as an actor he's worse than both of them.
Then, there's the aforementioned Gershon and Jimmy's older brother and sleazeball manager Demille Bly (Robert Sean Leonard) doing a frightful caricature of the Bob Sugar character from Jerry Maguire.
In an interview I read, Stallone said that Driven is a metaphor for the rat race of human life.
To me, it is a metaphor for every awful film ever made.
CREDITS:
Cast: Sylvester Stallone, Burt Reynolds, Kip, Pardue, Estella Warren, Christian Le Fuente,
Director: Renny Harlin
Producers: Sylvester Stallone, Renny Harlin
Screenplay: Sylvester Stallone
Distributor: Warner Bros