They are a confluence of influences, and they claim that it is this unique heterogeneity in the origins that give them their diversely unique sound and style.

Shanker Mahadevan, Ehsaan Noorani and Loy Mendonca each have a life and career of his own. Even the order of their names is set more along the lines of Amar Akbar Anthony rather than their ages.

Shanker Mahadevan, a qualified software engineer worked on Oracle Version Six and studied Western, Hindustani and Carnatic classical. A leading playback singer with

Pukar, Sapnay and Biwi No.1 to his credit, he also composed Breathless.

Ehsaan studied music at the Musicians' Institute in Los Angeles and worked with the like of Ronnie Desai and Louis Banks. He composed

Alien Desire, did several jingles and like Loy, was part of a blues-and-acid jazz band.

Loy is trained in Western classical and also learnt the rudiments of Indian classical music. He performed with several group bands, plays (

Godspell, West Side Story, Jesus Christ Superstar) and composed jingles and signature tunes (Fauji, The World This Week.)

The trio became thick as thieves when they came together to collaborate on jingles and a documentary on street children.

They were to make their debut as composers in

Dus, but the film remained incomplete after Mukul Anand's death, though the album clicked in a big way.

They composed some songs for

Dillagi and Rockford and also scored music for Shool, Bhopal Express and their ace-to-date, Mission Kashmir.
Dr Rajiv Vijayakar speaks with the musicmen.
What was the brief you were given for Dil Chahata Hai?
Shanker: It's a very young, very urban Indian film and so is the music. Farhan Akhtar did not tell us to follow a particular style. He just wanted music that was right for the film.
Ehsaan: We went to Khandala with Farhan, Javedsaab and the producer. We finalised six songs in three and a half days in an atmosphere of complete fun.
Loy: Work was 35 per cent, 65 per cent was fun. We had a fantastic time! When we came back, we booked a studio and completed the recording in three weeks. If this film works, then it will be a path-breaking one in terms of the styling and script.
How feasible is it to work on one film at a time?
Shanker: We would love to do every film this way. In the past we used to, with Dus and Dillagi and Mission Kashmir. But it's not practical now, with the way the film industry works.
Abhay and Shafaq are thrillers. How do you approach music for films like these that have no scope for music?
Ehsaan: We don't think that such films offer less scope, really.
Loy: You are probably referring only to the songs. But for us, songs are just a part of the overall music score that includes the background music. We don't think that the score will be less effective or more difficult. The scope for music in totality is the same.
Shafaq is a bilingual and Abhay a trilingual. Doesn't the music have to satisfy diverse audiences?
Ehsaan: That's where Shanker's southern origin comes in handy! We do have to tread a middle path.
Shanker: Music is universal. The rest depends on the script, the filmmaker and us.
How did Abhay happen?
Shanker: I have been singing in the South and Kamal Hassan is familiar with my work. I sang in Thenali for him. One day he met me at a Rehman recording and asked whether we would be interested in doing a film with him. He gave me a situation and asked us to compose something for it.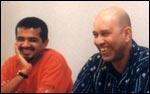 We were in the middle of the background score for Mission Kashmir and it was like a sudden interruption. Background music involves so much attention and energy aur waise bhi dimaag pak gayaa tha! So we composed something that was like an energy release -- it was so unconventional.
We were sure that Kamalji would say, 'Thank you! It was nice knowing you! There's no reason why we should not remain friends!' But instead, he told us that it was just what he was looking for!
Which proves that in the South, they are very open-minded!
What are the other films that you are doing now?
Shankar:We are doing Rohan Sippy's Kuchh Na Kaho and Vinod Chopra's next for which we are doing three songs and Adnan Sami is doing three.
You work with a very select clique of lyricists -- Sameer, Javed, and Gulzar. Why not try out others?
Loy: We don't have a major say in that aspect.
Ehsaan: We are open to any writer. But we expect a certain calibre of lyrics. Sameer's work in Dus and Mission Kashmir is very different from what he normally writes elsewhere, and he was the first to admit that.
What about singers?
Shanker: The same thing applies. We have given breaks to Madhushree and Nandini in our forthcoming films. They are damn good. Mahalakshmi got her break with us. Shaan, Shreenivas, Kay Kay -- we have used them along with established names.
Ehsaan: We don't mind even if the singer is untrained classically. We prefer someone who has a fresh-sounding texture. We don't want someone who is trying to be another Lata or Kishore or Rafi.
Shanker: All we ask is that he or she should not be besura. That puts us off as we have had some really bad experiences in the past!
This one's for Shanker. When you sing for yourselves, is it only after the song is tailored to your voice, style and range?
Look, nothing is fixed here. It works differently at different times.
How do you divide the work normally?
Shanker: Normally, Ehsaan and I compose the basic melody and Loy looks after the packaging. But once again there is nothing fixed. Loy may be fiddling around on the keyboard and some chord that he's playing may inspire us to make a basic melody. Then, he will further develop the music needed for it. So though it may have inspired Ehsaan or me, the melody took birth because of Loy. That's why we don't particularly segregate things.
You come from three completely different origins and backgrounds, how do you iron out the inevitable differences of opinion that crop in?
Shanker: I live in New Bombay, Loy is Thane-based and Ehsaan is in Bandra. And that's where we leave our egos when we meet for a recording! We have no hassles about trying out contrasting ideas and opinions to see what works better.
Why don't you take on more projects?

Shanker: We feel that we have enough on our plate if we are doing two or three films at a time! We do everything ourselves. We rehearse each and every musician separately. We personally look into the arrangements, sequencing, mixing and of course the vocals. Once the songs are over, the same thing is repeated with the background music.
Many a time, things are left to assistants and arrangers who do piecemeal sections. We don't do that.
You were accused of lifting Bumbro...
Shanker: That was crazy! We just picked up the word Bumbro and had composed an original song around it. Even the song from where we picked up that word is a folk song.
Ehsaan: Influences should be only used as a stepping stone.
Loy: We are shocked at the rampant plagiarism that goes on.
And yet while you talk about originality, why must you do remixes, like the ones in Dance Masti?
Loy: An original song is like a painting created from one perspective. There can be other views on the orchestral angle, the sound, and the rhythm. We have never tampered with the basic melody, nor do we claim that it's our original creation. When we did Dance Masti 2, we were shocked to know that many younsters didn't know about the song Baahon mein chale aao. They actually congratulated us for composing it!
The precise danger is that the original creators will be forgotten, isn't it?
Loy: The original creators are always credited. But you are talking only about credits. I would want that RD Burman and the others involved get royalty too. Sadly, that does not happen in India too often.
From jingles to film compositions. What have you learnt along the way?
Loy: Film compositions makes us think differently. In jingles, there are six to seven key points where moods change within 30 seconds! This teaches us to give meticulous attention to detail.
Ehsaan: Here I must mention the case where a senior composer had worked on a jingle, they had even shot the film, but the jingle just wasn't working.We composed another jingle for the same visuals, which was like working backwards.
That is the kind of advantage you have if you have worked in the ad world and that is a great advantage when you compose both songs and background scores.
Aren't there cases when bad compositions click because of the great sound?
Shanker: That's like dressing up a dead body.
Loy: Yeah, like a corpse wearing Calvin Klein!
You once had a producer telling you to compose a happy sad song. Has such a thing happened again?
Ehsaan: We are very careful about whom we work with now!
Tell us about your careers outside films
Shanker: I love to complete a score, go on a performing tour, return to do a few jingles and sing songs for others, and then sit on a score again. I am doing an album too and we are planning an album together as well. We also plan to project ourselves together as performers.
Ehsaan: Loy and I are also doing Dance Masti 3 with Jassi, who's an underrated talent indeed, prompted by the success of Dance Masti 2.
Do tell us what you think of this interview