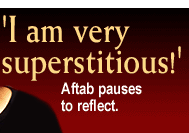 The camera has known him well for 15 of his 22 years.

Aftab Shivdasani might not quite count as a superstar, but he is nevertheless one of the busiest artistes in the Hindi film industry today.

Some facts about his journey: he started out as a child artiste in Boney Kapoor's superhit

Mr India. He was a familiar face on television in commercials like Bar-one, Coke, UTI, and TVS Scooty.

His first film as a hero was opposite the gorgeous Urmila Matondkar in Ramgopal Varma's

Mast.

Some of the films he has on hand are:

Love Ke Liye Kuch Bhi Karega, Pyaar Ishq Aur Mohabbat, Koi Mere Dil Se Poocho, Suno Sasurji and Pyaasa.

For all his busy schedule, the chocolate boy would rather party at home. But if he were to go out, it would be to his favourite haunt, the Cricket Club of India (CCI)

Here's what

Sheetal Seth found out when she met the actor:
Tell us a bit about your journey from Mast to Pyaar Ishq Aur Mohabbat.
The journey was nothing extraordinary. But I did have my share of growing up.
Ramgopal Varma had spotted me in the Coke ad. And that's how Mast, with Urmila Matondkar, happened.
Your last release was Kasoor. Are you happy with your work in it?
Kasoor was one of the best experiences in my life. The film was a milestone for me. It gave me a lot of job satisfaction and enhanced my career as an actor.
Working in it was a high.
It was great working with Lisa Ray. She's a real professional, cool to work with and quite supportive. She's very hard working and chilled out in life.
Which scene in Kasoor did you love shooting for?
The climax. It was fun. The shot went on for two-and-a-half days -- the entire unit was in water.
Even Lisa's make up man as well as mine were in water!
We put in good hard work.
Your role in Mast was drastically different from Kasoor. How did you prepare for it?
Initially, I did a lot of research on the character I was playing in Kasoor.

But I was not alone. My director Vikram (Bhatt) helped me a lot. He never allowed me to get off the hook. He helped me keep my focus. I ate, slept and talked my character.
You've been in films ever since you were a kid. Did exposure to the camera at an early age, help?
As far as I am concerned, I did not have any problems. My journey has been a smooth one. I did not even feel the need to go to any acting school.
It all came naturally to me.
Tell us something about your college days.
I studied at HR College, Bombay. I was pretty regular, and a health and music freak to boot. To date, I always carry my walkman and discman with me whereever I go.
You were quite active in sports...
As I mentioned earlier, I was a health freak. I enjoyed playing badminton, cricket and snooker.
But then, my love for acting took precedence. I wanted to reach out to people. And I had to concentrate a lot on my career. So I devoted my energies to acting.
What kind of roles are you looking for?
Action films -- that's something I've always been interested in.
By action, I don't mean stunts. As far as I am concerned, it might just be a slap. But it's how effectively you portray it that makes the difference.
I will begin work on an action film this September. But I don't want to speak about it now. I am very superstitious.

What do you think of the rumours that link you to your female co-stars?
I think it is part and parcel of the game and everybody goes through it. It doesn't affect me at all.
Is there anyone special in your life?
I won't deny it, but I'd rather not speak about it.
Marriage plans?
I am only 22! Let me enjoy life first!
Besides, I have to settle down financially and only then think of marriage.
Do you feel satisfied at the end of the day?
Yes I do. I am in a profession that I have always wanted to be in.
I work about ten or 12 hours a day, and although I am physically exhausted, mentally, I am contented.
And I calculate my satisfaction every day!