Aks: not a mistake!
Subhash K Jha

The unenthusiastic box-office response to Aks notwithstanding, superstar Amitabh Bachchan says he rates the film as one of his best.

Bachchan feels that critics and audiences must not expect the film industry to depart from the usual potboiler formula if they aren't willing to accept a 'path-breaking' project like

Aks.
What has the response to Aks been like?
There are people who are very impressed by the film. They have seen it four times and each time they discover a new facet of the film.
You can't absorb everything in Aks in the first viewing. A discerning audience needs to make an effort to understand the film.
Aks is a path-breaker, an answer to all those who have been asking me why don't I do something different.
Audiences seem to be a little confused by the film.
What's so confusing about it? The story is fairly straightforward.

There's a good man and a bad man. The bad soul enters the good man's body. The evil man's link with the world is the good man but he dies at the end.
Our whole Hindu philosophy of death and afterlife is based on this concept of soul transference. The ideas in Aks are ingrained in our philosophy and mythology.
Are the audiences ready for doses of philosophy and mythology?
Why should that not be so?
Haven't good and evil coexisted in our films from time immemorial?
It's a shame that audiences haven't given the film's subtext a chance. Some critics have said that the motive of Aks is to glorify evil. They haven't really bothered to understand the film's unique theory of poetic justice.

We've always shown good triumphing over evil in cinema. We haven't gone beyond that. Evil is never eradicated. If Aks shows the perpetuity of evil, why should people be uncomfortable with the idea?
But audiences aren't used to rounded, morally unambiguous endings...
Why do they lament the fact that mainstream Hindi cinema isn't experimental then?
Every time we're laughed at for telling the same cliched story. When we go beyond convention, people raise their eyebrows.
Aks must be viewed carefully, a number of times, before anyone is equipped to pass judgment on it.
Aks can't be dismissed so randomly.
Some people are horrified to see Amitabh Bachchan raping his screen wife.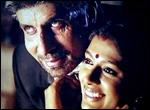 What for? What's so horrifying about showing the ugly truth of maritial rape?
The alien presence forces my character to behave that way.
Are you offended by the critical backlash?
It's their job to criticise. Their opinion is not going to change my life. I've no quibble with their opinion.
I haven't seen you so passionately possessive about any film before.
I'm not going to be bullied into believing that I've made a mistake with Aks.
I don't think any member of the audience can understand my feelings. I've never attempted anything like this. I think it's certainly one my best and most memorable films.
Are you going ahead with your next film with Rakesh Mehra as planned?
Most certainly.
The film market thinks it will never happen.

The market is entitled to its opinion. But I'm the one who decides what I want to do and don't want to. Rakesh and I are discussing two or three stories.
So you are working with Rakesh Mehra in another film to be produced by AB Corp Ltd?
Yes. I signed him on a year-and-a-half ago for two films. It could be a film called Samjhauta Express or something else. It will have Abhishek and me working together.
Indo-Asian News Service
ALSO READ:
I can't act for nuts
'I expect the world of Aks'
'Why I married Amitabh Bachchan'
Face off with Manoj Bajpai
Everything about Aks
Amitabh Bachchan: Ten Sites
Do tell us what you think of this interview