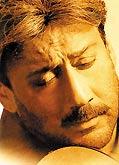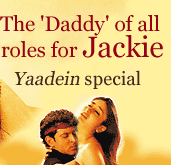 From his role in Hero to that of papa in Yaadein, Jackie Shroff has come full circle. Back to Subhash Ghai, the director who gave him his first taste of success on the silver screen.
A career that has spanned almost 20 years has seen Jackie scale the heights of popularity. But he is the most down-to-earth person you'll ever meet, discovers Syed Firdaus Ashraf: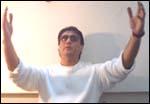 Tell us about Yaadein and your role in the film.
Yaadein is about memories. My memories after my three daughters are married. It is about a father who tries to befriend his daughters.
Men live with memories. Itna chhota sa bachcha, itna bada ho gaya. (Such a small child he was, he's grown up now). Yaadein is a family film. Everybody will love it.
What was it like acting as Kareena Kapoor's father? Do you think people will accept you?
I feel good doing this role. People will accept the story, the performance and the sincerity.
They accepted me as the bad guy in Mission Kashmir. Everyone said that after I played Ram in Ram Lakhan, the audiences would not accept me as a villain. But they did.
What was it like working with Subhash Ghai again?
Working with Subhash Ghai is always a different experience. Subhashji is my mentor. I'm always glad to work with him.
Can you tell us why you are the only actor Subhash Ghai repeats?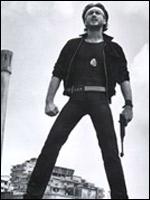 That's not true! I wasn't in Pardes or Taal.
If Subhashji feels that the subject suits Jackie, only then will he sign me. I have done the most number of films with Subhash Ghai. Anil Kapoor has acted with him in many films, too.
From Hero to Yaadein, what has the journey been like?
Excellent. I keep surprising myself with films like Mission Kashmir, Albela, Farz and Bas Itna Sa Khwaab Hai. All the roles are very different.
Even in the beginning, I worked in unusual films -- Sangeet, Gardish, Parinda and King Uncle.
I think I am discovering myself after 19 years.
What do you mean?
I am not taking it as coolly as I used to. Writers and directors are taking me seriously.
You mean you weren't serious about your work earlier?
No, I used to take a few films seriously. Then I would relax and do some lighter films.
Will you play a father in any upcoming film?

No. Only in Subhashji's film. I won't do the role for other filmmaker. I am doing this role because I want to grow as an actor. I want to do things that others find difficult.
Would you like to play roles like Aamir's in Lagaan or Sunny's in Gadar?
If they come to me, I will do them.
How would you compare yourself with Anil Kapoor, Sunny Deol and Sanjay Dutt -- your contemporaries?
They're my friends. If Sanjay was played a villain in Khalnayak, I did Hero. Now, Sanjay plays a nice guy and I'm a villain in Mission Kashmir.
Anil Kapoor has come a long way from Parinda to 1942 - A Love Story. I plan to work in some films with Anil, Sunny and Sanjubaba.
Did you ever plan your career?
Never. Jo aaya, jo hua, jo honeka hai, wohi hoga. (What came, what happened, what will happen, will happen) I do whatever I want.
Do you ever feel insecure?
Paagal ho gaya hai kya?(laughs) (Have you gone mad?)
Aren't you afraid of the future?

Kabhi nahin. Kaahe ka darr, pehle kaun tha main? (Never. What fear? Who was I before I became a hero?)
I always believe whatever is written in your fate will happen. I wanted to be a chef, I became a hero.
What is your opinion on the current set of heroes?
They are good. When we came in, we didn't know what acting was all about. Subhashji trained us to fight, improve our diction. Today, the kids are a hundred times smarter than I was. They know all aspects of filmmaking.
Tell us about your production company.
I have released two films. I am enjoying the experience. We also plan to make a horror film.
How do you maintain your physique?
I am a complete vegetarian. I don't have the time to work out. But I need to work out for the Sanjay Khan film that I will be working in as Ravana.
What is the role like?
Ravan ka kya role hai? Ravan ka role Ravan hai, aur kya? (What role will Ravana have? Ravana's role is Ravana's role what else?) Ravana is the biggest villain. I will try my best to play an honest role.
When you were first offered a hero's role by Subhash Ghai, what was your reaction?

Chai gir gayee mere haath se (I sloshed a cup of tea from my hands). A friend of mine was teaching me Hindi. He recommended me to Subhash Ghai. I went to see him and he selected me.
Do you feel you can pull off a single hero film now?
No. You need a team. A good director, cameraman, music director and a good script. No hero can pull off a hit singlehandedly.
Does this mean you need another hero to support you?
No, I don't need another star. I need a star director.
How do you feel when your film flops?
I don't feel bad. It has been almost 20 years since I first came in. Har film ke liye dukh-dard lekar baithoon to heart attack se mar jaoonga. Uppar nicche hote rahta hai insaan ki zindagi main. (I'd collapse with a heart attack if I mourned over each film. Ups and downs are part of every human's life)
What was the most depressing moment of your life?
When my brother and my father died. I also feel bad when I see poor homeless children begging on the pavements. The rich just sit in their cars without even bothering to look at them. It's unfortunate kisi ke paas dil nahin hai (No one has a heart).
You have not forgotten your roots, have you?
Main sadak ka baccha hoon (I am a child of the streets). Can I forget your roots? I am a simple man.
I donated some money to some boys who have now become electricians. Some run cold drink shops; one is a boot-polish boy. That is religion for me.
God resides in a child's heart. One must teach this principle to one's own children, too.

Where do you see yourself in another ten years?
Sab kuch karoonga (I will do everything). I will do romance. I will play a father, a villain. I will act till the day I can.
When I retire, I'll go to some beach or a hillstation with my yaadein!
Photographs: Jewella Miranda
Do tell us what you think of this interview