Vidya Shivram
Veteran South actress Revathy's directorial debut, Mitr -- My Friend, is interesting for more than one reason.

For starters, the credits list is an all-women crew, with only a couple of experienced hands. For another, it directly addresses the 1.5 million strong Indian population in the US. And lastly, it seeks identity as a non-formula film.

Shot in California's Silicon Valley, the film (in English) revolves around an Indian family living in America for 18 years. The mother (National Award winner Shobana) increasingly longs for her Indian roots, while neither father (model Nasir Abdullah) nor daughter (newcomer Preeti Vissa) understand her.

In particular, the mother-daughter relationship is affected by huge cultural differences. In the process, Lakshmi, the mother, starts analysing and re-discovering life.

Produced by Telephoto Entertainments Limited, a public limited company co-promoted by cinematographer Suresh Menon and Revathy, it is scheduled for an August-September release.

Excerpts from an interview with the Madras-based debutant filmmaker:
Were you nervous about direction?
I was a little worried. I was not sure if I could get across what I wanted.
I had decided that I wouldn't act or show any part, as every character might end up looking like me! But when the shoot started, I realised that I had intelligent actors and they understood most of what I wanted. I just had to mould them a bit, as I had many newcomers.
The title is in Hindi and English...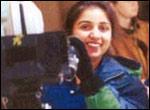 Yes. It pertains to the story. You will know when you see the movie. Besides, I wanted it to be very Indian, hence mitr, Sanskrit for 'friend'.
The film seems to on three levels -- the identity crisis felt by Indian Americans, an exploration of relationships, and the story of women like Lakshmi. Which one of these is the key theme?
It is more about the story of women like Lakshmi. Then about relationships, and then about the identity crisis faced by people who leave their homeland and settle elsewhere to make a living -- in that order.
I would like to think that it does not only talk about Indians in the US only but about any person who settles abroad, as human relationships and culture are similar all over the world. I needed a foundation and as I know Indian culture and emotions the best, I chose a family of Indian origin.
The all-woman crew must have been a big high. How did that come about?
I did not plan it, it just happened.
Priya narrated the story. Sudha is doing the screenplay and dialogue. A close friend of mine knew Fowzia, a cinematographer. So we asked her to join us. Prabha is a friend and we roped her in for costumes.
By then, we realised that the main crew was turning out to be women and so we decided to complete the crew with women!
We then looked out for a music director and heard about Bhavatharini who had started working on her album. Then we asked Bina, the editor, to join the gang. The last one to join the crew was Geetha who came in as the DTS Sound Engineer.

Things fell into place smoothly and I think we have been a great team together!
It has been a great experience for me, especially as an actress. I was used to being the single woman in a unit, and here I was surrounded by women! We made the right decision.
Are you excited with the way it has shaped up?
It has been like moulding a child and giving it life. Though the critic in me makes me feel that I could have done better, I still love every frame of this 'child'. I am yet to see the first print of our film. I am eagerly looking forward to it.
Are you worried about finding distributors for a non-formula film?
This film is basically meant for the US market. I would like to release it in the US like any other normal film and create a market for Indian films there.
The duration is what international audiences are used to -- one hour and 45 minutes.
I believe that, with a good reach, it will work, as there are more that 1.5 million Indians in the US out of which 300,000 are in California. So it is a matter of reaching out to them and getting them to see the film.
This will create a new genre of films and encourage filmmakers like us who want to do films other than the run-of-the-mill kind. People are always complaining about the quality of Indian films, but again it is the audience who should watch good films in the theatres and encourage us to make better films. It is a cycle of sorts.
We have not marketed the film yet and since it has been a big project, we are tensed. But we have put in our sincere efforts and I believe that things will work out.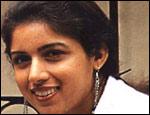 Does one get to see Revathy the actress anymore? Any plans afoot for turning producer or director of Tamil films?
Acting is something that I adore, but I would rather not act than do meaningless roles.
I have decided that I will be even choosier and do roles that are challenging to me as an actress. I do not mind waiting for the real good ones.
Yes, we'll definitely produce Tamil films. I would like to direct Tamil films too, as I feel very close to the Tamil culture.
Do tell us what you think of this interview