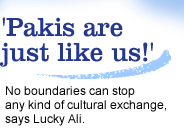 His father Mehmood very rightly said, "My son is very unpredictable."

He cited an example. During the shooting of his last film,

Dushman Duniya Ka, Mehmood said, "Lucky was in the film. He had to have a moustache for the film. I had warned him not to shave. But my son walks onto the sets the next day cleanshaven. I had no choice but to throw him out of the film."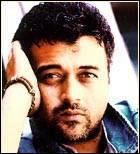 Just when things are looking bright for

Lucky Ali, one of the most wanted playback singers in the industry, the man has decided to stop playback singing.

At the press meet of his new film,

Kya Main Ab Bhi Tumse Pyaar Karta Hoon, which marks his debut as a music composer, he told Bharati Dubey: "I am tired of playback singing. I can't take this pressure. I need my space and time to myself. Besides, I have so many commitments which will take most of my time."

He also recently performed in Pakistan. He describes his experience:
How was you tour to Pakistan? Was it at short notice?
It was wonderful. I was well received by Karachi. They gave me a warm welcome. I could see the crowd singing the songs along with me. I realised how popular Hrithik is.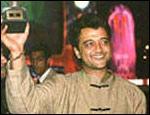 Pakistanis are just like us. We have the same cultural heritage and no boundaries can stop any kind of cultural exchange.
They love it when Indian artiste visits Pakistan. There must be more cultural exchanges between the two countries. These tours might not fetch you much monetarily, but they will definitely help build cordial relations between India and Pakistan.
To ansnwer your second question, no, the show was not planned at a short notice. It is just that it coincided with Pervez Musharraf's visit.
Are you planning to go back again?
Not not for a while.
Do you agree that there is a lot of reluctance as far Indian artistes go to visit Pakistan?
I don't think so. Every artiste would want to go there. Pakistani artistes would want to come and perform here.
In fact, I saw Shatrughan Sinha there. So where is the reluctance?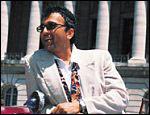 How many offers have you turned down?
A lot of them. I had to say no to A R Rahman, too. But one just cant help at times. The nos outnumber the yeses.
What about the Roshans? Will you be able to say no to them?
Roshans are like my family. I have seen Duggu grow up from a little boy to the handsome man he is today. Duggu has to experience new voices. I am sure they will understand my problem.
So you now are exploring acting?
Yes. I am trying to. Let's see how much I can do. I have taken on so much work that I can't go to New Zealand for the next four months.
I am off to London to complete the music of KMABTPKH.
How many films have you signed on as an actor?

I have Sanjay Gupta's Kaante. You know, I didn't know I had replaced Akshaye Khanna in the film till I read some film magazine. I felt very bad for him. He is a very dear friend of mine.
Then I have Mahesh Bhatt's film, which is being directed by Tanuja Chandra, and KMABTPKH to be directed by Bobby Khan.
What happens to Aditya Bhattacharya's Avtaar?
The producers, Penta Media have been facing some kind of financial problems. Aditya is being very patient with them. Let's see what happens.