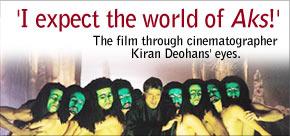 "I'm sorry, I'm leaving for Delhi tomorrow, so we need to meet today. I hope thatís ok by you," says Kiran Deohans.

"Sure," I mumble.

"Meet me at Western Outdoor, Mahalaxmi, at around 1930 hrs. Iím editing there."

KD rushes in at close to 2000 hrs, apologising for the delay: "Ö the traffic was damn bad, yaar.Ē
Over a cuppa coffee and some chicken-cheese-wiches, Kiran Deohans (KD for short), cinematographer, and

Vivek Fernandes move straight to the favourite current event -- Aks - The Reflection.
The last film you worked in was Qayamat Se Qayamat Tak, over ten years ago. Why this long sabbatical?
It's a long story. After completing my course at the Film Institute, I decided on a career in Hindi cinema.
So I came to Bombay and began my career as an assistant with the then famous film-maker Nadeem Khan. I also worked with director Mansoor Khan during this period at Scan Video where made ad films.
It was here that QSQT took shape.
Mansoor wanted me to shoot the film but Naseer Hussain wasn't too confident about me, since I was a newcomer.
But Mansoor was adamant, said he wouldnít direct if I didnít work with him. He convinced Hussain to allow me to shoot a screentest between Juhi (Chawla) and Aamir (Khan) and see how we fared. That was a test for me.
QSQT ultimately turned out to be a lovely experience. It was a first for Mansoor, Aamir and me.
We all related to the film -- it dealt with interreligious relationships. Mansoor and Aamir are Muslim. Mansoorís wife Tina is Catholic. And Reena, Aamirís wife, is a Punjabi. I met my wife, Avaan, around the same time -- sheís Parsi and I'm a Hindu. So we could identify with the film.
QSQT went on to win the Filmfare Award for best cinematography in 1988.
I was at the top when I had hardly even begun. I had offers from Shekhar Kapur and Rahul Rawail, but I turned them down. I made a conscious decision not to do films for another ten years at least.
Why?
Because I didnít think good cinematography was appreciated in films then as much as it was in advertising.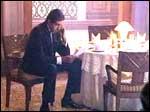 Starcast sold the films those days. No one gave the cinematographers their due. Few people knew the difference good picturisation could make for their film. People would call me at the eleventh hour, send me a script a week before the shoot.
I didnít want to work like that. I wanted to be involved from the very beginning.
Advertising, on the other hand, has no stars. Only the product. It was the cinematographer's job to visualise, turn that product into an object of desire. Advertising gave me a chance to explore and experiment. It also gave me monetary support.
Offers kept pouring in. Mukul Anand offered me Dus; but it just wasnít the right time.
How and why did you decide to take on Rakesh Mehraís first project then?
I was saturated with the work I was doing. I just needed a change and was on the lookout for new horizons.
One day, Rakesh, a close friend from the advertising circuit with whom I had worked on the BPL commercials (starring Amitji), called me.
He narrated Aks to me. I was completely taken up. Here was the chance I had been waiting for. But I didn't say yes right away.
I needed to think it over because it meant complete commitment on my part, which could affect the work for my own production house, Candid Creations.
But then again, I would never have forgiven myself if I let this offer pass. So I took it up.
From the promos it's very apparent that Aks is a very precise, stylised film. What part did you play in its making? How did you prepare yourself for the task director Rakesh had entrusted you with?
I wanted Aks to be a landmark, in terms of technicality. When I first heard the story, as a cinematographer, I wanted to give the film a hard cold look, a raw appeal.
Aks was to be a noire film. I did my homework. I studied the Hollywood film, Seven, which is also in the same psycho-thriller category as Aks.
I tried to adapt the look from an Indian perspective with a little drama and colour thrown into the songs.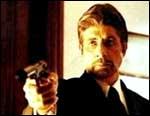 I also studied the paintings of renowned still photographers like David Balley and Henri Bresson, scanned pictures and took printouts to coordinate with the art director.
I was not just the cinematographer for Aks, I was the director of photography.
I also liaisoned with the costume designers, the set technicians and the make-up team. I had to be a step ahead because they would all look to me for cues.
I was responsible for turning that story into cinematic reality.
How different is Aks from any other?
You know, people have seen only the promos till now, and they are raving about the film. That is victory for me.
What they have seen is visual styling, which has made all the difference. Iíve used a lot of dark contrasting colours like black with light ones -- a lot of purple, neon, aquamarine blue and very few traces of the frequently used red to give the film a mysterious look.
The songs are glamorous, but it is a very controlled glamour.
Also, I used lenses traditionally meant for indoor shooting for our outdoor shoots, specifically because I wanted to give it a colder, more eerie look.
When we shot at Topaz, a strip joint in Bombay, I wanted to capture the sexual tension and the sense of foreboding that exist at such places.
So I played around with shadows. Most of the audience is in darkness, contrary to what we see in other films.
But even as Raveena Tandon flits through the other girls during the dance, I lit her so that you are left searching the screen for her, even when sheís not in the spotlight.
I lit Manoj Bajpai from just below eye level, not from above as is usually done, to give him a more eerie, ghostly look.
There is a very thin line differentiating the realistic from the dramatically outrageous throughout the film.
When you first heard the script, which character did you find most exciting?
I was enamoured by the evil character played by Manoj Bajpai, which later comes back to haunt Amitabhís character.
He kills for money and takes pleasure in it. There are so many possibilities of working with someone who is evil, no? So many shades to experiment with.
Itís so much more exciting, more thrilling than someone who is just plain old good.
Raveenaís character is interesting, too -- she plays a woman who is 100 per cent woman and makes no bones about her sensuality.
Which character of the four leads had the strongest screen presence?
How can I answer that? It's very difficult for me to say -- all of them have their own screen charisma.
Amitabhji is a legend. I grew up watching his films and was awestruck by him. It used to take me around 30 to 40 seconds to form the words before I actually said anything to him!
What are some of your more memorable experiences of Aks?
We were on location in Budapest, in subzero temperature. All of us had five layers of clothing.
There was a scene which I needed to shoot from a helicopter. Iím very finicky about my work. One of my conditions was that I shoot every shot in the film.
Very often, especially when you are shooting abroad, people use specialist photographers -- arial, underwater -- for the film. But I wanted to do it myself.
I got on the helicopter. I was fitted with the safety harness and the other gear because I would be shooting from outside the copter. I was literally suspended in the air.
I didn't realise that until I saw the video coverage of the shoot when we landed. I was told that the temperature was actually minus 15 degrees.
Only then did it dawn on me how risky the experience was and how foolhardy I had been.
How important are the songs to the film?
They form part of the narrative. Miss the song and you'll miss part of the story.
They also add gloss to the film. People need relief -- the songs provide the entertainment and drama.
Visually, I have treated the songs differently, too. I wanted to make them dramatic yet controlled.
Did an artiste come up to you at any point and say, 'Oh, youíve not captured my best profile or my most flattering angle'?
It was, as Nandita Das says, working with family. Only this was better because after some time, family, too, gets boring.
Rakesh is a great friend. It was a pleasure working with him. I hope he says the same about me!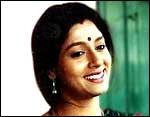 Also, I donít work with people who donít trust me. When I am behind the camera, I am totally in command. I know my art completely.
If you go up to an actor and ask them what light or angle they prefer, they will see through you. They would prefer it if you stopped faffing around. They respect you more if you know what you are doing.
Kabhi Khushi Kabhie Gham, your next feature, is a big film. How did it fall into your lap?
KKKG will probably be the biggest film after Sholay. I have Amitji to thank.
Karan Johar saw a song we had shot for Aks at the Bachchan residence. He was on the lookout for a new cinematographer then. Amitji recommended me.
When I came back to cinema, I wanted to stick to working on only one film a year. Amitji knew that; he told me to meet Karan.
When he recommended me, how could I refuse?
My first meeting with Karan lasted over three hours. He gave me a bound script but said he'd like to narrate the story to me if I had the time. I did.
So he told me his entire dream, the whole 360-page script, from memory. It was amazing. He knew the script by heart, page for page, scene for scene, word for word.
The look for KKKG is very different from the one Iíve given Aks. KKKG is more international, a different school altogether.
Is the cinematographerís role changing in the world of Hindi cinema?
Yes, our craft is finally getting the appreciation it deserves. Veterans like Jayaji, Amitji and the newer lot led by Shah Rukh and Raveena have become very cinema savvy. They know now how much technical support can enhance their appearance.
Shah Rukh even says that when youíve got people like Santosh Sivan or KD shooting for a film, it never gets dated.
What are your expectations from Aks? If it turns out to be the hit people are expecting it to be, how much of its success would you like to take credit for?
I expect the world of Aks.
But I can't take all the credit. It was a team effort. You have to see the film in totality.
Also Read:
Face off with Manoj Bajpai!
'Why I married Amitabh': Nandita Das
Aks -- The Reflection: Story in pictures
Aks -- a haunting melody
'I can't act for nuts!'
Listen to the songs of Aks

Do tell us what you think of this interview