HOME | MOVIES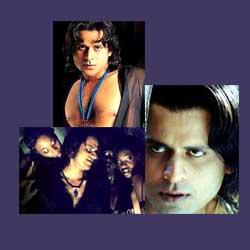 Life seems to have come full circle for Manoj Bajpai.
A nobody from Bihar who dreamt of being a star like his idol Amitabh Bachchan is now slated to release a film with the legend who inspired him.
After giving great performances in Satya and Kaun, Manoj seemed to be going places.
Soon followed duds like Dil Pe Mat Le Yaar, Ghaath, Shool and Zubeidaa.
Now, Manoj is set to reach for the stars with Aks - The Reflection, the thriller directed by Rakesh Mehra, costarring Amitabh Bachchan, Nandita Das and Raveena Tandon.
According to Manoj, the film is zara hatke. Here's why.
Text: India News Feature Service
Also Read:
Aks -- The story in pictures
Why I married Amitabh': Nandita Das
Aks -- The music review
The importance of being Manoj Bajpai
'I can't act for nuts!': Rakesh Mehra
A powerful performer