HOME | MOVIES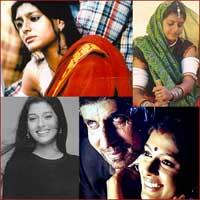 Fire, Earth and Water -- elements captured in Nandita Das' kohl-lined eyes.
Daughter of painter Jatin Das, this dusky Delhi-based damsel has carved a niche for herself as the unconventional heroine with Fire, 1947 - Earth, Rockford, Hazaar Chaurasi Ki Maa.
She walked away with the best actress award for her performance in Bawandar (Sandstorm) at the Santa Monica Film Festival, and hopes to win accolades with her performance in Aks, where she plays Amitabh's better half.
Text: India News Feature Service
Also Read:
Aks -- The story in pictures
Aks -- The music review
Down to earth... and proud of it
'I can't act for nuts!': Rakesh Mehra
The Nandita Das interview