He had an unsuccessful stint in films.

And so, when television called, he was all too pleased to seize the opportunity.

That proved lucky for

Shekhar Suman.

At one point he was known as the busiest star in television; he was even called the Amitabh Bachchan of the small screen.

Shekhar struck gold with his chat show,

Movers And Shakers. But now, he makes a comeback to the silver screen with Kundan Shah's Kasam Se.

Ronjita Das met the actor in his plush European style apartment.
What prompted your comeback to films?
I didn't leave films because I wanted to. I left because I wasn't very happy with the roles I was getting.
I didn't want to make mistakes, which would lead me to the point of no return. So it was basically a salvage attempt to hang on to what I had. But once I made a name in television, cinema came back with the roles I had always wanted.
Also, television is such that you cannot go beyond a certain point. As an actor, I wanted to grow out of the mould which I had been set into.
To showcase your talent, it is necessary to break away from that mould.
Besides, an actor will always opt for better opportunities. So when I get an opportunity in films, I'll move. If I get an opportunity in theatre, I'll shift there. It's very important to grow and reinvent yourself every day.
Was it a conscious shift?
No. It just happened.
I have reached my peak in television -- I wanted to explore different avenues. I think cinema came to me at the right time.
Did you have to reorganise your life to fit films in?
Yes. Cinema needs more of mental organisation since it is very erratic. Television, on the other hand, is very disciplined.
But this is not difficult for me, as I have already been through it.
How has the industry changed since your first stint in cinema?
Drastically. Earlier, the 'biggies' like Amitabh Bachchan, Shatrughan Sinha, Vinod Khanna and Dharmendra dominated the scene. When I came in, Govinda and I were just starting our careers.
Besides, in 1986, cinema didn't have much direction. Technically, we were very shoddy and indisciplined. Now we are on par with Hollywood in terms of looks, packaging, clothes and presentation.
But we still lack in content. There's a herd mentality where everything starts with dil and ends with pyaar!
A major change is that our actors and actresses are looking far superior than they did earlier. Then, they were better actors, but now they are better lookers.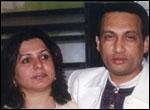 In cinema, it is very essential to look good, irrespective of talent. Like Sanjeev Kumar. He was a great actor, but I wish he had paid more attention to his looks. He would have been far more successful.
What made you choose Kasam Se in particular?
I love my role. It's cranky, bizarre and farcical.
Kundan has gone beyond the routine, run-of-the-mill comedies we have. He has gone to the level of farce. I think it's about time we introduced that to our audiences.
Also, I hold Kundan in high esteem after Jaane Bhi Do Yaaro. He is a very sensitive director, an actor's director. He allows you a lot of freedom.
Besides, the lead stars, Sunil Shetty and Raveena Tandon, are horribly good! They don't throw any tantrums or wear attitudes. It's very easy to work with them. We had a picnic while shooting.
In fact, it was Sunil who had urged Kundan to choose me.
I think Kasam Se is the perfect start for my comeback to films.
Tell us more about your role.
I play Anand, a childhood friend of Sunil Shetty. I'm a novelist who writes some really weird novels.
Sunil's father gets Rs 4,000 million through someone's will. I have to pass that on to Sunil as I am also a lawyer. But I make a mistake and swap the will with a person who is a don in my novel.
So Sunil's father's will goes to the don, and the don's will (which amounts to nothing) goes to Sunil.
To get back his inheritance, Sunil has to pretend to be a bigger don than the one in my novel. In the whole process of getting the money, we bump into Raveena and Isha Koppikar.
That's another twist to the tale. Raveena is in love with Sunil; I'm in love with Raveena; Isha is in love with me and Sunil is in love with Isha!
Any incidents while shooting that stand out in your mind?
There was this sequence when the four of us had to dress up as Sardars, as we had to go for an exhibition organised by them. We are supposed to be hunting for a Sardar. And there must have been around 150 Sardars in that exhibition hall!
When I walked into the sets dressed as a Sardar, Kundan didn't recognise me. He kept asking me who I was and why I entered his sets. We had a lot of fun shooting for that scene, because everybody looked identical. There was a lot of confusion.
Besides, the person we were hunting for was a new actor who kept forgetting his lines. So I kept prompting him. It looked so funny in the rushes that Kundan decided to keep it.
How different is shooting for cinema from television?
It is quite different -- cinema is on a much larger canvas.
Right from the start, everything is bigger -- the unit, camera, lights -- whereas television can be enclosed in a room.
Besides, cinema is more slow-paced. For television, an episode must get completed in its scheduled time. The deadlines must be strictly adhered to. In cinema, you are more relaxed, you can think well and improvise, you look better -- there is time for everything.
The style is also different. Cinema is more a projection of personality. Amitabh Bachchan is always Amitabh Bachchan in his films. His character is never really projected. That is totally unlike television.
What are your expectations from Kasam Se?
I think expectations should be left to newcomers. When you have been through the gamut of failures and success, the best thing is to do your job and then forget about it.
For me, I just hope people will like me so that it paves a way for me to do better roles in future.

Do you think your television background has helped you get better roles?
Yes, of course. I worked in big films with Madhuri Dixit, Dimple Kapadia and Rekha, but the roles I wanted never came to me.
Television showcased my talent well so people felt that I should be given a better chance.
In the eight years that I have worked in television, I have evolved as an actor.
Why do you think you didn't make it on the big screen?
There are a lot of reasons for that. It's basically the question of the right image and the right opportunity. Bachchan started failing in cinema because he chose bad roles like Lal Badshah. But he was reinvented on television in Kaun Banega Crorepati.
I made the same mistake by choosing bad roles. I played a negative role in Naache Mayuri and Pati Parmeshwar, which people did not like. I had even done some B-grade films.
Cinema was also going through a bad phase then. Production was very shoddy. Music, photography, editing and packaging were bad.
If I entered cinema ten years later, I would have been as popular as I am on television. I came ten years too early.
But I don't have any regrets. Whatever I missed out on cinema, I got it on television. And now I have come back to cinema. Maybe God wanted me to have the best of both worlds.
Do you plan to return to cinema full-time?
I would like to have one foot in each! If I am appreciated in cinema, I'll do more films. Otherwise, I'll stick to television. But television will always remain my mainstay.
What other films are you doing?
I'm doing a film with David Dhawan called Chor Machaye Shor, with Bobby Deol playing the lead.
In the film, Bobby and I are friends. He keeps getting into trouble and I have to keep helping him. And each time, I have to become his mother, sister, daughter, friend, a Sardar, a terrorist, etc. I have nine roles in the film.
Besides this, there was talk about Kalpana Lajma's film called Modh. Sunil Shetty and Raveena were supposed to play the lead roles, but Sunil opted out of the film. I am supposed to play Raveena's husband.
The story goes like this: Raveena is married to me, but there is a psychopath who is madly in love with her. He kidnaps her and then tries to kill her.
I am more interested in doing the role of the psychopath.
Movers And Shakers is gradually losing popularity. Is that why you've come back to films?
I don't think it's losing popularity. In fact, it's the only show of its kind that's been around for four years.
It's not possible for a serial to have an upward graph all the time. Like Antakshari and KBC. They are still popular, but not the same as they were before. Some amount of fatigue level sets in.
I think Sony Entertainment Television made a mistake by pushing the time of Movers and Shakers from 10:10 pm to 10:45 pm. People go to sleep by then!
So it's not as much as losing popularity as losing sight of it. M & S is like a newspaper -- full of current affairs and something that you can't get bored of.
So that's not the reason why I went back to films. Films just came to me. If the serial wasn't doing well, the channel would have just struck it off.
ALSO READ:
'Net is like a burkha-clad girl'