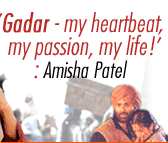 "Aamir isn't the only one who confronted a running train, I did it too. And I walked."

Amisha Patel missed colliding with a train by a few seconds while shooting for

Gadar - Ek Prem Katha.

Move over Aamir Khan.

Today her movie,

Gadar - Ek Prem Katha has edged ahead of Aamir's mega project, Lagaan.

After

.Kaho Naa..Pyaar Hai failed to get her the recognition she deserved, she shot back with Gadar - Ek Prem Katha, a film she says that has marked her as an actress.

Working on a wet Sunday afternoon,

Faisal Shariff caught up with Amisha Patel at Subi Samuel's studio for a tête-à-tête.

What is your reaction to the various protests against Gadar?

There is nothing anti-Hindu or anti-Islamic about it.

A leading newspaper, made a silly statement, saying that, 'one of the actresses named, Sakina…', which meant they didn't even know that the main protagonist of the film was Sakina.

They say Sunny said, 'Hindustan Murdabad', when he hasn't even mentioned it in the film.

I think a lot of uneducated people, by that, I mean those who haven't seen the film, have passed judgment on it and have made factual errors.

Our film says love passes all boundaries and unites.

Sunny Deol never asks his wife to convert to Hinduism in the film. Even when she is away from him she offers her namaaz.
Sunny agrees to convert to Islam and stay back in Pakistan. When you have a Sunny's character, a strong Hindu, ready to convert to Islam for the sake of love, it conveys that his only religion is the safety of his wife and child. How can there be anything controversial about it?
I received calls from Lahore and Karachi, telling me how much they loved the film there. A few even wanted to meet me, if they ever come to India. When Pakistanis have loved the movie, how can there be anything anti-Islamic about the movie.
Another allegation against the film is that it confuses nationality and caste?
Not at all!
Who decides that a man and woman cannot be united despite religious differences?
Tomorrow if I fell for a Muslim man, I would marry him. Love is the essence of any religion.
Shabana Azmi found the film provocative.
I think her sentiments are uncalled for. When a similar issue marred her film, wasn't she the first one to say that the Hindus objected to it?
What happens now? We made a good sincere film.
Her film couldn't even be shot. At least ours has.
People have given us permission to shoot at certain locations and the censor board has gone through with our film. It meant that very intelligent decision-makers there allowed it because they saw nothing wrong with it.
I think Ms Azmi has made a religious discrimination. I'm sad that someone as distinguished as she is supposed to be, could do what she did. I am sorry to say this; but she has been very petty.
She created a hue and cry with her film, Water. What is she doing now?
When the tables turn and it hits home, it really hurts.
When did Amisha Patel become Sakina for Gadar?
The day I signed the film. From the 500 girls selected, only 22 were screen tested. My audition lasted 12 hours!
We had to enact some key scenes without knowing the entire graph of the film. I had to be spontaneous. I had to dance, had to change into costumes, to look the period. My process of thinking started then.
When I eventually was signed on, I had 20 sittings with the director where we worked on hair, costume, make-up and body language. I was given books on Lahore and Islam to read and movies to watch.
I also visited Haji Ali, watched how the people prayed, as part of my study of the Muslim culture.

I did a lot of research. We used to sketch diagrams of hairstyles we liked. From the six finalised, there was a specific one, which looked best.
A series of sittings with my wig-maker Kailashji followed. He tried to give me the Nargis-Madhubala, look, but I ended up with my own hair, all curled for the movie.
It was a long journey prior to the shooting; they were sittings with my writer Shaktimanji who would run me through the role of Sakina, we'd cover even costumes and color combinations beforehand.
The first scene that I actually did was the one where I'm already in Pakistan. At that point in the film, I'm already a mother and I tell my father "Hum Hindustan nahi jayenge, khat nahi likhenge, telephone nahi karenge, hum sirf intezaar karenge".
It was tough to channelise my thoughts to post-interval, separated and confronting my father.
And this was a year before Kaho Naa...Pyaar Hai had even released. I returned to the Simla portion of the school and college, later.
When I donned on the costumes and make-up and walked onto the set, I wasn't acting, I was Sakina. For most of the scenes, I did not use glycerine.
I think what helped me, were on the locations; the atmosphere created was very authentic. My director and producer had faith in me, I wasn't a star, I didn't have a Kaho Naa…
What did you assimilate about Islamic culture and Pakistan from the books you read? How did they help you?
What I essentially learnt was that Islam and Hinduism preach the same thing.
Many preconceived notions that I had about Islam, were cleared.

I interacted with lots of Pakistanis, when I studied in America and became the best of friends. A high hypothetical geographical line in a map, doesn't make you different people.
We eat the same food, speak the same language; they love our Hindi movies. I am not ashamed of playing a Pakistani girl, I love the Muslim culture. I felt a kinship, found an understanding with them. It felt absolutely foolish to point out differences, that was the most amazing revolution I ever went through.
How did the character of Sakina affect you?
It affected me deeply.
When you understand Islam culture, you'll know that the body language of their women is unlike that of bold Punjabi women. A Muslim girl's eyes are always lowered, she is softer, she possess an understanding, that only culture can give.
A Hindu girl from an affluent educated background would perhaps speak to her father directly, but a Muslim girl bow her head down, in respect. That angle, made all the difference to my character.
What does Gadar - Ek Prem Katha mean to you?
Gadar - Ek Prem Katha has been my heartbeat, my breath, my passion, my life for the past two years.
How would you compare Gadar and KNPH?
KNPH was a very different film. You can't compare it with Gadar.
I played myself in KNPH, a college kid who had been through heartaches and crushes.
Gadar called for perfection. I couldn't walk onto the sets not knowing what I was going to wear and pull on a pair of jeans. Gadar was a very big film...we shot at original locations with huge crowds.
KNPH gave me a platform, an acceptance, it made me popular. Gadar has marked me as an actress. It have been compared with Madhubala and Meena Kumari...that alone is a big feat.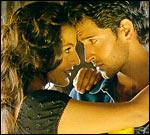 KNPH will go in the portals alongside Dilwale... and Dil To Pagal Hai. Gadar has a different niche. It goes down along with the Mughal-E-Azam and Pakeezah.
Not every actress gets what I have managed to, in their second film. You don't see period films or classic films like this made every year. You won't see another Gadar for another 20 years. KNPH was a candyfloss film of today, full of colour. Gadar was true reality.
Why the long break between KNPH and Gadar?
I was committed to Gadar before KNPH was released. For all ethical reasons it was to be my second film because they had signed me on. I walked out of many films, for Gadar. But I couldn't ask for a bigger hit, could i?
Weren't you afraid that the long sabbatical would erase you from public memory?
If your work is good, it doesn't matter if you do only film. Aamir does one film a year and he's more famous than any other.
But Aamir has 15 years of stardom behind him?
That doesn't matter! I'm starting a new trend. But, I feel one good film is worth more than five which don't do anything for you. I will have three to four releases, this year, though.
You've had three upto now KNPH, Badri and Gadar. And scored with all of them. Does this pressurise you or does it make you over-confident?
I feel lucky. I have gotten used to having hits now. People keep tagging me as a lucky charm for their films.
But, I know my little bubble will burst soon and I will be snapped out of my dreams. I'll take that in my stride as well. All I know, is that I am blessed. I didn't have a big banner backing, Anil Sharma was written off as a director; Sunny was a little too old for me.

When you think of Sunny, you don't think of a love story. When you think of Amisha Patel you don't think of her playing a mother to a five-year old. Also we were catering to a mass audience. But we went ahead and did it and it worked. I took the risk because I had conviction and it worked like magic.
And no, I am not over-confident.
Do you think you have never really been given your due?
As long as the dark horse is winning, I don't see the problem. The public will give me my due.
It would have been tougher if I had the backing of a Subhash Ghai or a Yash Chopra banner. That would have given them half the credit for the success.
When you have everything working against you and yet you beat every record, you feel real victory.
What is your definition of acting?
Acting is reacting, feeling, being. It's about reacting to people and being sensitive to emotions. If you are a sensitive person you can be a better actor. Acting can't be taught. There isn't a right or a wrong.
Did you read the original story for Gadar? Did you see Shaheed-E-Mohabbat?
No, I didn't.
It was an inspired story. I didn't want to go into the film with some pre-conceived notion. I knew that I had to put in my own homework not someone else's effort. I could have watched Shaheed-E-Mohabbat and been that girl but I didn't want to. I wanted to make Sakina an original. It was my decision.
Compare your stints with Hrithik, the latest craze and Sunny, the seasoned actor as actors.
Hrithik has a long way to go. He has a lot of learning to do. He will improve with every film. He is still a newcomer, he still is my buddy.
Sunny is a superstar. A National Award winner with 18 years in the industry. But he made me feel so comfortable. He was never insecure about his role.
Is this part of the journey or is this the destination? Is it going to be movies now?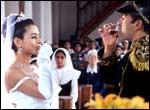 I don't know. I don't know tomorrow. I am doing well, now. That matters most. I have been accepted, I have been loved.
I have an 'A' grade on my report card. I might see an 'F' on it tomorrow and then I might just have to exit gracefully.
Have you seen Lagaan?
No, I haven't. My parents have, and in many ways they thought it was better than mine and in many ways they thought my film scored over it.
But, they said that the two could not be compared. Lagaan is an entertainer Gadar is a serious film. But I am happy that the film did well because Aamir is my favourite actor.
ALSO READ:
Amisha Patel enters Bollywood
Amisha Patel,post Kaho Naa...Pyaar Hai
Do tell us what you think of this interview