Raveena's Mr Right!
Subhash K Jha
The recent stories about her and cricketer Rahul Dravid had me chuckling unhappily. While getting written on page three of newspapers do plenty for the besotted celebrities who run after this stunner, it certainly doesn't amuse Raveena Tandon.
Right now, she's hopping mad. "A female celebrity just has to chat and smile with a guy for him to become the new man in her life. Amazing. Since a lot of the writers who put do aur do (two and two) together to make saat pheras (seven steps around the fire) for me are men themselves, I wonder if men in our country enjoy gossipping more than women."
Raveena refuses to comment on the romantic rumours that have hounded her throughout 2001: "The fact is many of these guys whom I was supposed to be seeing are my buddies. I've always been the bum chum kinda girl. My heroes would rather be my buddies than my boyfriends.
"I'm on backslapping terms with everyone from Sanjay Dutt to Sanjay Kapoor. That's why wives never feel threatened by my presence in their husband's lives. They know if I'm their husband's friend I'm the wife's buddy as well."
"I do believe men and women can share healthy, long-lasting platonic relationships. For me, the guy for 2001 was the one I could share my problems with without letting the guy-girl differences come in our way. I believe these relationships last longer than the other routine man-woman thing that runs out of steam after a while."
But there's nothing like a good, old-fashioned romance to boost the incorrigible romantic in Raveena: "I was nodding my head vigorously in the film Captain Corelli's Mandolin when Penelope Cruz's father says, 'Love is what remains after 'falling in love' is over'.
"I completely identified with the girl in Captain Corelli's Mandolin. Like her, I think my Dad is the ideal man. He shares the most perfect relationship with my Mom. Subconsciously, I look for qualities I see in my father in all the men I meet. Invariably they fall short."
"I guess my kind of guy has to match up to those standards. He has to be as caring and sharing as my Dad. Why, even my brother Rajeev and his wife (television actress Rakhi Tandon) share a perfect relationship."
Is it true that some of these eligible suitors from the cricketing, advertising and business world have been relentless, wooing Raveena though she didn't relent an inch? "I wouldn't like to comment on that. Everyone thinks I have a queue of men waiting to woo me. I wish the magazines would introduce me to some of these hot, eligible guys I am supposed to have dated in 2001.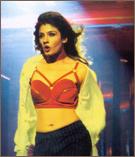 "Maybe, as you say, men get intimidated by the aura of glamour. I don't know. Maybe they think, 'Yaar apna koi chance nahin hai (I don't stand a chance).'
"I can't get into flings and instant relationships. That's just not me. To me the ideal relationship is the one that lasts forever and a day. Impossible? But then I've always been a dreamer."
"If love happens I wouldn't think twice about giving up my career to be a wife and mother. To me a man-woman partnership is about sharing responsibilities. I don't mind looking after the home if my spouse is the bread earner.
"I don't mind being a housewife as long as my man doesn't see himself as the superior being. My mother has always been there for all of us. There was never a moment when she wasn't around. That's the way I would like it to be with my husband and kids.
"But the decision to give up my career has to be my own. One of the two has to do it, right? At heart, I'm a middleclass girl brought up on middleclass values.
"I'd never allow my man to walk all over me. Not even for love. I'm also against the bra-burning brand of feminism where equality of sexes is equated with dressing and behaving like a man. I'd rather be true to myself and my heart than theories and ideologies. I believe isms are like prisons unless applied subjectively."
"Yes, I want a man who's supportive in every sense. I don't mind being pampered and looked after by the man I love. Believe me, he would have earned that right."