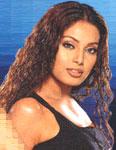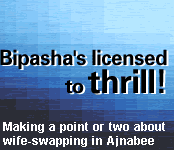 Some people look plain in person, but sizzle on screen.

Bipasha Basu falls into this category.

This dusky, sensuous Bengali beauty prompted filmmaker J P Dutta to cast her in

Aakhri Mughal opposite Abhishek Bachchan. It was to be Abhishek's launch film.

The project didn't take off. And Bipasha lost out -- as both Dutta and Abhishek went on to make Refugee with another new face, Kareena.

But soon, the model was signed up by Abbas Mustan for

Ajnabee. It is based loosely on the Hollywood film, Consenting Adults, and the theme of wife-swapping.

Ajnabee also stars Akshay Kumar, Bobby Deol and Kareena Kapoor. As the film gets ready for release, Bipasha prepares herself to launch a new career: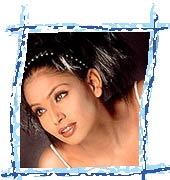 Do you think Ajnabee is as good a launchpad as Aakhri Mughal would have been?
Yes, I think so. But Aakhri Mughal was supposed to be Abhishek's launch. Jayaji and JPji had coaxed me to take up the film.
I'd done a couple of videos, including Sonu Nigam's Tu. I guess that caught their eye. Besides, I was totally into the film world.
When the film got shelved, I sent feelers and bagged Abbas Mustan's Ajnabee.
I love acting. It is like an addiction. I think I'm a competent actress. I'm not saying I'm flawless -- I have my minus points. But I am turning them into pluses.
Acting is an enjoyable experience. The rest I leave to destiny.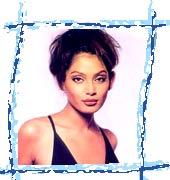 What is Ajnabee about?
It is not a regular love story or love triangle. It's different! *laughs*
It revolves around wife-swapping. A bold subject, yes. But we've taken extreme care about our hypersensitive Indian audiences. The film only skims the subject.
It's an exciting and unconventional project, which is why I took it up in the first place. It's a thriller. I thought it would capture audience's attention for three hours at least.
I play Bobby's wife and get attracted to Akshay Kumar.
Did you enjoy working with Bobby Deol and Akshay Kumar?
They were too sweet. Akshay is such a prankster. He never let anyone on their own for too long. Soon, we started guessing who his next target would be.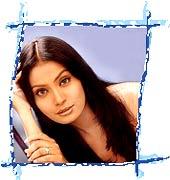 And Bobby always supported him. Their banter and sporting behaviour brought jaan (life) into the unit. Before I had realised, the shoot was over. There were no ego hassles, no attitude or bad temper.
Their wives used to drop in, too. I hit it off pretty well with Tanya (Deol). Twinkle is really sweet, too.
Except, perhaps for the showdown with Kareena...
Well, what can I say? I don't understand why someone of her stature would talk ill of me.
I need a good friendly atmosphere around me to function well. I had a delightful experience working with the whole unit. If someone did not, it is not my problem. I could not understand the problem to begin with.
Vikram Bhatt chose you over Lisa Ray for his next thriller, Raaz. How does that make you feel?
'Choosing me over Lisa Ray' sounds odd. Vikram took me because he thought I could deliver. Why Lisa could not do the film and what went wrong, I really do not know.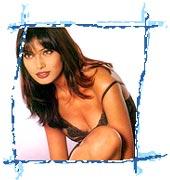 I feel the word 'replace' should be replaced from the dictionary. *laughs* But seriously, I do not think I replaced anyone.
And I'm tired of answering this question. Raaz is a great subject and I am sure it will be a good film. It has a supernatural theme. Vikram is a wonderful director.
Was boyfriend Dino Morea inspired to join films because of you?
Not at all! He is not a top hero to promote me and neither am I a top actress! We are both trying to make a niche for ourselves.
Actually, I knew this would happen some day -- once we are in a film, people will jump to this conclusion.
In fact, when I signed Raaz and learnt that Dino was the male lead in it, I was in two minds about doing it. On one hand, the script was excellent. On the other was our personal relationship. I kept thinking of the consequences of us working together.
But we talked and sorted it out.
What other films have you signed recently?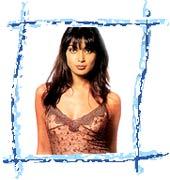 Right now, I am doing only Ajnabee and Raaz. I plan to take on more films only after Ajnabee releases. I want to gauge the audiences' reaction to me.
One hears that there was some problem brewing between Dino and you, due to Milind.
We both are just fine, thank you!
People really blow things out of proportion. In fact, that's another thing I have learnt in the film world. Milind and I are just friends.
People can say whatever they want, but I am not going to give away a good friend just to stop wagging tongues!
India News Feature Service
Also read:
Mix n' match mish-mash!
Akshay and Bipasha whip up a frenzy!
'Once you enter films, your private life becomes a joke'

Do tell us what you think of this interview