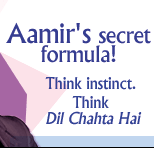 Subhash K Jha
Aamir Khan is on a roll.
The applause for his

Lagaan is yet to wane, and he is in the news again winning laurels for his work in the just released Dil Chahta Hai.

Following are the excerpts of an interview with the actor, better known as the perfectionist of the Hindi film industry:

You seem to have had a ball playing the brattish Akash in Dil Chahta Hai...

Yeah, I did. When (director-writer) Farhan Akhtar narrated the script, he didn't tell me which character he wanted me to play.

I heard him out, and liked the whole script. But I wondered which role he had in mind for me. Farhan wanted me to play Sid, Akshaye Khanna's role.

I had no problem. But I just felt I had done that already.

In which film?

Well, not exactly Sid. Even in Lagaan, my character was underplayed. I wasn't very excited about Sid. My instincts didn't really warm up to that part.
I told Farhan I liked Akash very much. That's something I had never done before. Farhan thought about it and agreed to let me play Akash.
I think the role required me to unlearn whatever I had learnt about acting in the last 10 years.
Akash isn't a very likeable character. His friend's girlfriend doesn't even like him...
He is likeable. Though he's not very true to his relationships. I'd say he's a shallow guy. He can be quite callous with people's feelings.
Akash isn't a deep person. I understood the character the minute I read the screenplay.
I had some real life references to play Akash. I know some really callous and shallow people. You know them too, but I'm certainly not going to name them *laughs*.
But basically, Akash isn't a bad guy. One experience, finding love, brings out his good side.
I loved the transformation my character goes through especially at the end when he has the courage to call up his friend Sid to apologise.
There are scenes, like the one at the opera in Sydney, which could have easily fallen apart...
I just did what the script required me to. You see, whatever you do as an actor has to be done with conviction. When you play a character sincerely, the audience is bound to connect with your effort. When the audiences see a sincere performance, they believe in the character's truth.
Would you agree Dil Chahta Hai is the best film you've done so far?
I can't say that. It's very difficult to arrive at such a conclusion. When I did Jo Jeeta Wohi Sikander, everyone said that was mindblowing.
Then I did Andaz Apna Apna, and I was told that was my best performance.
They said the same about Rangeela, Raja Hindustani and Sarfarosh. I always keep getting these strong reactions.
How do you rate your performance in Dil Chahta Hai, vis-à-vis Lagaan?
I think I've managed to do what I set out to do in Dil Chahta Hai. But it's very difficult to compare the two performances as they are diametrically opposite.
You not said to be happy with your performance in Lagaan?
No, no, I'm very happy. I wasn't happy with the time I got to prepare for Lagaan. I've never said I was happy or unhappy. All I said was I didn't get enough time.
In contrast, I got two months to prepare for Dil Chahta Hai. I changed my look the way Farhan wanted me to look. Credit must go to him for that. I had no idea about how my character would look.
Was Akash's look dictated by his age?
That's how youngsters these days dress behave and look. Though I'm not 18, I'm not alienated from the mind processes of that generation.
In any case, my character isn't that young. He's in his mid-20s. Akash is just out of college. So he's about 10 years younger than my actual age.
Psychologically, I had no problem with my character. I was 34 when I read the script of Dil Chahta Hai. I asked Farhan if I could pass off as a 24-year old. He was sure I could.
The characters and dialogues were so well written, they brought out the flavour and feel of the script. As an actor, I had no ambiguous pockets in the screenplay. That was a big help.
An allegation against Dil Chahta Hai is that it's a very urban film...
How can you call that an allegation? It's the film's characteristic. It's too early to say the film won't run in smaller towns.
The reaction I'm getting from even small towns is positive. Moreover, the writer-director has every right to make the kind of film he believes in.
Farhan has made a film that's close to his sensibility. For better or for worse, his sensibility is urban modern and today. I'm sure there are sections of the audience who don't appreciate all the finer points of the film or identify with the characters.
But that doesn't mean Farhan intends to ignore any section of the audience. Farhan has done what came naturally to him. Very few films have a totally universal resonance. It's very difficult to make films that appeal to all sections.
So what's the solution?
I feel the times are changing. As an actor, I've been trying to do different but universally acceptable films. Qayamat Se Qayamat Tak, Dil Hai Ki Manta Nahin, Jo Jeeta Wohi Sikander, Andaz Apna Apna, Sarfarosh, Lagaan and Dil Chahta Hai were all different for their times.
I've always been excited by fresh and path breaking material. I'm happy that all these films have worked.
You're the only actor to have served up two outstanding films in two months. How are you going to fulfil audiences' expectations?
What am I supposed to do? I'm doing films I believe in and enjoy. And I'm thrilled people love them.
When I stop doing good work, their appreciation will obviously stop.
What's your secret formula?
No formula. I just follow my instincts. I feel vindicated, happy and proud that the audience across the country share my enthusiasm for a different kind of entertainment. That is very encouraging.
With every film I've gathered the strength to try something different in my next. I think I'm going about it the right way.
Which is going to be your next release?
I don't think I'll have a release for quite some time. I haven't shot this entire year for any film.
I was busy with post-production work for Lagaan in the first-half of the year, then Dil Chahta Hai. The next film I start will be directed by my cousin, Mansoor Khan, for AB Corp Ltd.
You're now going on your second star shows abroad?
Yes, they weren't planned for this year. But after the success of Lagaan, my promoters wanted it. Now with Dil Chahta Hai, the shows seem even more relevant.
I'm touring the US, the UK and Canada. I'm very keen to meet my audience directly after the two films.
Indo-Asian News Service
ALSO READ
Strike one: Farhan Akhtar
'I believe in love:' Aamir Khan
'It was a mad unit!': Preity Zinta
'Sameer's closest to me:' Saif Ali Khan
'I didn't want Dil Chahta Hai to end:' Akshaye Khanna
Dimple: The Dil Chahta Hai suprise
My son, Farhan
The story in pictures
Shankar-Ehsaan-Loy on Dil Chahta Hai
Dil Chahta Hai music review
Do tell us what you think of this interview