The not-so noble savage
Sukanya Verma
Originally titled Eaters Of The Dead, based on the 1976 novel of the same name by Michael Crichton (Jurassic Park, The Great Train Robbery), The 13th Warrior is a blood and gore infested 10th century war epic.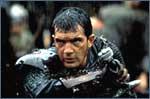 What's amazing is that you discover a delirious spectator to all the butchering and blood splattering in yourself.
The novel itself draws its inspiration from the real life encounters of Arab poet Ahmed Ibn Fadlan (played by Antonio Banderas) who, after being exiled from Baghdad, is transported as an ambassador in Vikingland. Giving him company is his loyal attendant-cum-translator Melchisidek (Omar Sharif).
The duo bumps into a group of unshaven, unkempt, unhygienic and disgusting Norse savages. If tolerating the abhorrent lifestyle of the Vikings wasn't enough, Ahmed becomes their reluctant volunteer in saving the Norse Kingdom from what is supposedly a 'demon' attack.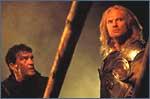 Right from the beginning, Ahmed establishes his credentials as the 'Allah-fearing' brains in this motley crew led by the dynamic Buliwyf (Vladmir Kulich). Without any further ado, the brave 13 valiantly battle the so-called demons, who are basically man-eating scavengers.
Shot in the wild and dim locales of British Columbia, The 13th Warrior has a dark, authentic look about it, which works well for the film. The mystical mood is further escalated by Jerry Goldsmith's (The Mummy, Ghost And The Darkness) gripping score. Also watch out for the brilliant sword and spear combat sequences.
Yeah okay, so the movie depicts excessive violence. But, then you don't expect the reputed Vikings to perform ballet, do you?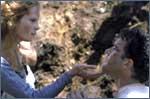 Among the cast, Antonio Banderas is plausible playing a part where he doesn't play the clichéd hero -- strong Spanish accent notwithstanding. A relatively unknown cast of Scandinavian actors exhibit sparks, especially Vladimir Kulich.
The flaws surfaces in the form of an inconsistent script. The outcome of a half-baked romance and internal rivalry angle is absurd. Apparently, director John McTiernan (Die Hard) walked out midway and Crichton had to step in. Which probably explains the glitches.
Bottomline is if you enjoyed Conan The Barbarian, Braveheart and Ghost And The Darkness, The 13th Warrior should make your day.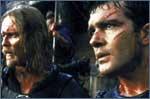 Credits:
Director: John McTiernan
Producer: John McTiernan, Michael Crichton and Ned Dowd
Cast: Antonio Banderas, Dennis Storhoi, Vladimir Kulich, Omar Sharif and Diane Venora.
Music: Jerry Goldsmith
Screenplay: William Wisher and Warren Lewis.
Related link: Michael Crichton