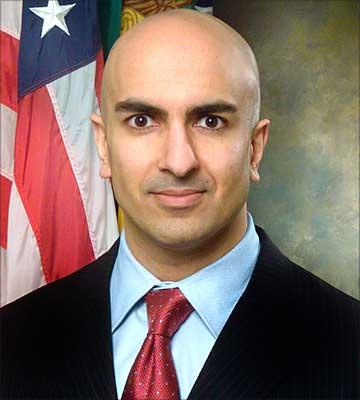 US Treasury Secretary Henry Paulson is expected to appoint Neel Kashkari as the interim head for its new Office of Financial Stability to oversee the $700-billion bailout programme, a media report said.
Indian origin Kashkari, a Treasury assistant secretary for international affairs, is the key adviser on whom Paulson has come to rely on during the financial crisis, The Wall Street Journal reported.
Paulson is now seeking Kashkari's help to oversee Treasury's $700-billion programme to buy distressed assets from financial institutions, the report said.
The position is interim and pending for the Senate confirmation. It is unlikely the Senate would take a call on the matter before the November elections, the report added.
Kashkari, who was one of the originator of the bailout plan, was part of the Treasury team that negotiated the asset-repurchase programme with Congress. Now, he would oversee some key decisions on how the rescue programme would operate.
Congress has given Treasury the authority to start buying assets, but choices like which asset managers to hire, which securities to purchase and how, still remain, the report said.
Kashkari originally trained as an aerospace engineer and worked on developing technology for NASA before earning an MBA at the University of Pennsylvania. The former Goldman Sachs Group Inc banker spent much of his tenure at Treasury helping Paulson tackle the fallout of the housing meltdown.
Treasury is trying to get the bailout programme running as quickly as possible. It is expected to begin soliciting bids from asset managers this week, the report stated.
The department also plans to hire several managers, with expertise in the types of securities the government would likely buy, mainly mortgage-backed securities and residential mortgages, it added.
Text: PTI